WTF: David Lynch Directing Live Webcast Featuring Duran Duran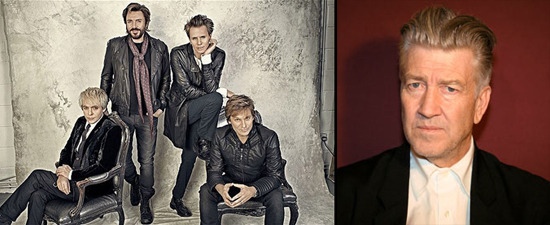 We've seen a few instances of big directors making a couple bucks directing live webstreams, the most high-profile probably being Terry Gilliam's collaboration with Arcade Fire last year. But I did a triple-take when a press release landed on top of the inbox this afternoon, because it proudly announced that David Lynch will, on March 23, direct a livestream webcast featuring a performance by '80s synth-pop chart-toppers Duran Duran. (With all original members!)
If you're as confused by this as I am, check the full release after the break.
David Lynch says,
The idea is to try and create on the fly, layers of images permeating Duran Duran on the stage. A world of experimentation and hopefully some happy accidents.
All of which is great, but isn't there a band better suited both for him and for that idea than Duran Duran? American Express is behind this, and they put Arcade Fire and Terry Gilliam together. Surely there was a more interesting — or at least more current — marriage of music and director?
David Lynch has been getting more and more involved in music, and if he could have been paired with another associate of his Dark Night of the Soul co-creator Danger Mouse, this would be a lot more exciting. My hopes that we'll ever get another proper feature from the director are rapidly fading, but I can make do with his musical endeavors. The ones that don't involve Duran Duran, anyway. (Cynicsm aside, I'll have to watch, and maybe some good stuff will come of this.)
Here are the important bits of the press release:
NEW YORK, March 14, 2011 – Grammy® award-winning rock icons Duran Duran will kick-off the second year of "Unstaged: An Original Series from American Express" on March 23rd at the Mayan Theatre in Los Angeles, Calif. The event (featuring all four original members: Simon Le Bon, Nick Rhodes, John Taylor and Roger Taylor) comes one day after their critically acclaimed 13th studio album, entitled ALL YOU NEED IS NOW (S-Curve Records), hits stores. Duran Duran's performance will mark the first time an artist within the "Unstaged" music series plays from Los Angeles. Upon release, tickets for Duran Duran's performance at the Mayan Theatre sold out in under five minutes.The 2011 "Unstaged" kick-off performance will be live-streamed at 10:00PM ET / 7:00PM PT at www.YouTube.com/DuranDuranVEVO. American Express, in partnership with VEVO, the leading online premium music video and entertainment service, and YouTube will provide Duran Duran fans worldwide with access to their "Unstaged" performance, which coincides with the start of the band's first official tour since 2008. Award-winning filmmaker David Lynch (The Elephant Man, Blue Velvet, and Mulholland Drive), known for his unique cinematic style that masterfully blends imagery and sound design, has been enlisted to capture the performance, providing fans with a visually stunning home viewing experience."I am very excited about this opportunity to experiment with the band, Duran Duran, at the Mayan Theater on March 23rd," said filmmaker David Lynch. "The idea is to try and create on the fly, layers of images permeating Duran Duran on the stage. A world of experimentation and hopefully some happy accidents."Speaking from a rehearsal studio in London where they are preparing for the 'Unstaged' show, lead singer Simon Le Bon said: "We are all beyond delighted that David Lynch has agreed to direct this show for us. It's a dream come true quite frankly. We are all such fans of his work and think he has a creative vision like no other. In talking to him about what he is planning, we all believe this live-streamed performance is going to look nothing like anyone has ever seen before. We can't wait."