'Blitz' Red Band Trailer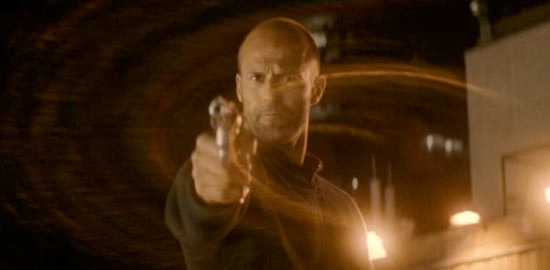 Who's ready for their biannual Jason Statham-obliterates-everyone fix? Hopefully you're shouting, "Me, me, me!" because after The Mechanic, Blitz fills his quota for 2011. (Or at least it would, had he not turned out to be such an overachiever.) The premise is beautiful in its simplicity: A sociopathic cop is dispatched to take down a serial killer who's targeting police officers. The result, likewise, appears to be everything one would hope: Brutal, visceral, and cheerfully demented. We already bore witness to the international trailer for the film, but now there's a red band trailer, indulging a greater emphasis on C-words and facial-stomping. Check out the trailer after the break.
This is more or less an abbreviated teaser, condensing most of what we saw in the earlier trailer into one frenzied, ferocious 30-second block. I actually prefer it. It's high on energy, low on spoilers, and conveys all that's appealing about the film in a quick and dirty bout of rage-induced ass-kickery. Think of it as I Saw the Devil (see here) by way of Snatch.
Also worthy of note: The film was written by Moon scribe Nathan Parker (adapted from Ken Bruen's novel of the same name), and costars Paddy Considine and Aidan Gillen. Considine should be familiar to many as one mustachioed half of the hilarious Andy's duo from Hot Fuzz, but more recently he also delivered a stellar dramatic turn in the second of the Red Riding films. Here he plays the openly gay officer teamed with Statham's homophobic wrecking machine of a cop. That should be interesting. Gillen, meanwhile, will probably be best remembered as Carcetti from The Wire. He's gone the psychopathic villain route at least once before with 12 Rounds, and it wasn't pretty — but then, he didn't have much to work with. This role seems to showcase him having a lot more fun with the material. Glad to see it.
Blitz opens in the UK on May 6, but has yet to set its 2011 US release date. The film is directed by Elliott Lester (Love is the Drug).
Check out the trailer below, or watch it in HD at IGN.
Here's a plot synopsis, according to the book:
The south-east London police squad are suffering collective burnout: with tragic deaths, excessive habits, uncontrollable anger and the wrong kind of friendships, the team never had it so bad. When a serial killer takes his show on the road, things get progressively worse. Nicknamed 'The Blitz,' a vicious murderer is aiming for tabloid glory by killing cops. Harold Dunphy, Ace crime reporter, thinks he's on to the story of the decade, and the police have all the incentive they need to catch their criminal – before they get caught first!