Cool Stuff: 100 Years Of Set Locations From The Top 2000 Films On Google Maps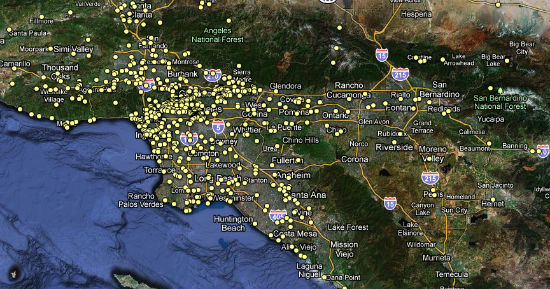 Has one of the 2000 best movies released in the past century filmed a scene near where you live? In the past, that information would probably be relegated to old newspaper articles and would take hours to find. Now, thanks to sites like the Internet Movie Database, there are lists of shooting locations (with varying accuracy) available for almost any movie. But what does all that data look like when it's mapped out together? You're about to see.
Box Office Quant has taken all the listed locations from the top 2000 films as voted on by users of the Internet Movie Database, inserted that information into Google Maps via Fusion Tables, and come out with a fully interactive world map of almost 10,000 shooting locations from 2,000 movies. It's truly a sight to behold, and incredibly fun to mess around with. Check it out after the jump.
We've embedded the map below, but all the credit in the world has to go to Edmund at BoxOfficeQuant who not only came up with this idea but did the legwork. The story behind this project is pretty interesting, and oddly enough is thanks to The Fall, so head over there to read it. Below, we've quoted how exactly he made this awesome page.
Here's how Edmund went about creating that:
I used Google's new data management tool: Fusion Tables. I was completely amazed by their functionality; all I needed to do was enter in the location data from IMDB, and the map was generated automatically. These data were taken from imdb.com, as linked in the map, and the 2000 films were selected as the top films from 1910-2010 by most IMDB user votes, as I believed that was the best simple approximation of general interest in each film. Some locations couldn't be found by Google Maps – and in what has to be the most entertaining error handling I've seen, those data points are mapped to the Bermuda Triangle. And finally, The Fall actually isn't in the top 2000 film list, so after adding that, the totals are 2001 films, and 9736 locations.
I used to work at a local newspaper so I knew that films like Super Troopers, Michael Clayton and The Birdcage all shot around where I lived (Orange County, New York, just north of Manhattan). So that's what filmed near where I grew up. What about you?