'RASL,' From 'Bone' Creator Jeff Smith, Optioned By 'Sherlock Holmes' Producer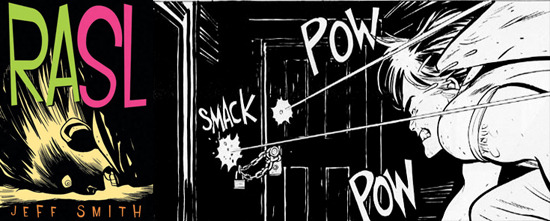 Jeff Smith made a huge splash in the early '90s comics world with his long-form fantasy Bone. The series blended the influences of Walt Disney and Walt Kelley and created a framework with great characters and an ambitious sense of scope in which to tell a story that was unlike anything in comics at the time.
His follow-up series, RASL, hasn't made quite the same giant splash, but the comics world is a very different place twenty years after Bone debuted. RASL's reviews have been good, and the property has now been optioned for development as a film.
RASL follows (per Booklist),
a parallel-world-hopping art thief who not so long ago was a brainiac physicist exploring some of the possibilities buried in Nikola Tesla's legacy. But now he's a grim, tattooed bruiser dodging a camel-faced assassin who's tracking his dimensional jumps.
Producer Lionel Wigram (both new Sherlock Holmes films) bought the rights and tells Deadline, "We'll team with a writer and figure out how to adapt it to the screen and hopefully it will become a big movie franchise for Warner Bros."
Jeff Smith is an exec producer; at this point there is no writer set to adapt.
And what of the Bone film, which Warner Bros. optioned and put into development several years ago? We haven't heard anything on that front in quite some time — in late 2009 producer Dan Lin used simplistic industry-speak to describe it as "Shrek meets Lord of the Rings," saying that a director was being sought, Justin Monjo was writing and Animal Logic, the company behind Happy Feet, was set to go to work. It's been all quiet on the Bone front since then.