"Phenomenal" 1964 'Casino Royale' Script Shows What That Awful 1966 Spoof Could Have Been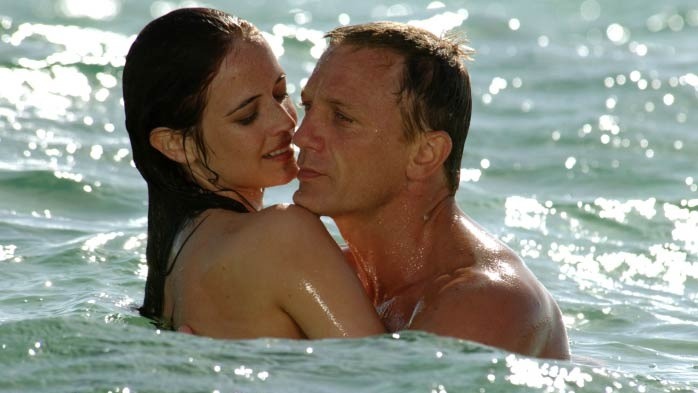 You might already know that 2006's Casino Royale, starring Daniel Craig, was the second attempt to make a feature film out of Ian Fleming's first James Bond novel — the first being the widely panned 1966 spoof starring David Niven, Orson Welles, Woody Allen, Peter Sellers and Ursula Andress. What you probably didn't know is that at one point during its development, the 1966 film was a serious treatment penned by "the Shakespeare of Hollywood," Ben Hecht. And by one account, Hecht's script could've been one of the best Bond movies ever made. Read more after the jump.
Although Hecht's treatment contained "darkly comedic" scenes, for the most part, it was a serious, grown-up adaptation of Fleming's novel — closer to Martin Campbell's 2006 film than the 1966 parody it eventually became. The bare bones of the story will be familiar to anyone who saw Campbell's version — Bond, his lady love Vesper Lynd, Le Chiffre (Colonel Chiffre in Hecht's script), the torture sequence, the tragic betrayal and eventual suicide. Hecht's version also includes some new characters not from the book, most notably in the form of Chiffre's wife Gita and Bond's ex-fling Lili Wing. The particulars of Chiffre's background are also different — in Hecht's script, Chiffre runs brothels used to extort secrets from important leaders.
It seems that Hecht never quite completed his final draft, but Duns was able to approximate what Hecht's finished product would have looked like by putting Hecht's last two incomplete drafts together. Duns calls the combined material, from April 1964, "phenomenal":
Hecht's treatment of the romance element is powerful and convincing, even with the throwaway ending, but there is also a distinctly adult feel to the story. It has all the excitement and glamour you would expect from a Bond film but is more suspenseful, and the violence is brutal rather than cartoonish.
He goes on to speculate:
Casino Royale might even have been regarded as not just a classic Bond film, but as a classic thriller. We'll never know, but Hecht's surviving material offers a glimpse into a cinematic genius at work, and an alternate James Bond adventure as rich and thrilling as anything yet brought to the screen.
So how did Hecht's masterful script turn into the embarrassment that was the 1966 Casino Royale? Hecht died of a heart attack April 18, 1964, before he was able to finish the project. Producer Charles Feldman made a few more attempts to make the film happen. By 1966, the script had been completely rewritten by Billy Wilder, with additional contributions by Joseph Heller, Terry Southern, Wolf Mankowitz and John Law. The completed film bore almost no resemblance to Hecht's screenplay.
It's definitely worth heading over to The Telegraph to read the rest of Duns' story, especially if you're a Bond buff. While I'm pretty happy with the 2006 Casino Royale that we eventually got, I can only imagine what a version penned by the guy who wrote Notorious would've been like.
[This piece has been amended to show the correct year for Martin Campbell's film as 2006. The piece previously stated that the film came out in 2004.]