'Bad Teacher' Trailer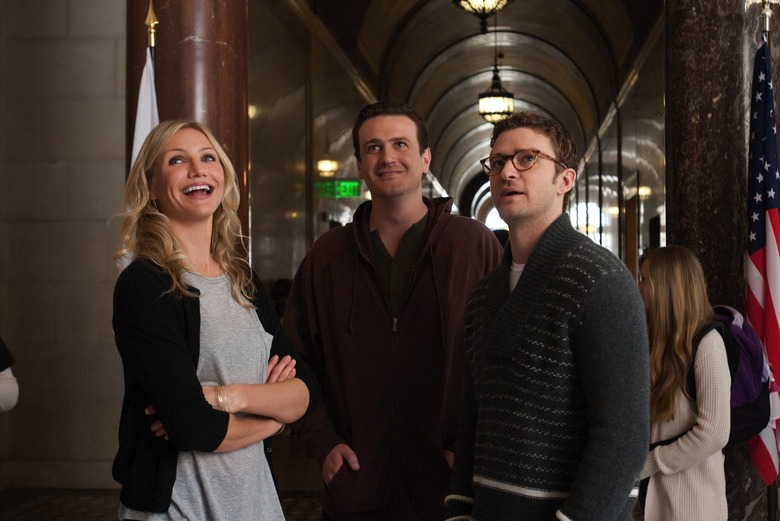 Columbia Pictures have released a green band movie trailer for Bad Teacher. You might recall that a red band trailer was released a couple weeks back.
Jake Kasdan's sex comedy Bad Teacher,  is about the competition between a teacher 'who just doesn't give an F' (played by Cameron Diaz) and her "overly energetic colleague" played by Lucy Punch, over the new guy in school: Justin Timberlake. Jason Segel is also in the mix as a gym teacher who has the hots for Diaz's character. The comedy is written by the writing duo of Gene Stupnitsky and Lee Eisenberg , who were responsible for the horrible Year One, and the possibly upcoming Ghostbusters III (oh yah, and The Office too).
Watch the trailer embedded after the jump. Please leave your thoughts in the comments below.
Watch the trailer thanks to Yahoo:
Here's the official synopsis:
Some teachers just don't give an F. For example, there's Elizabeth (Cameron Diaz). She's foul-mouthed, ruthless, and inappropriate. She drinks, she gets high, and she can't wait to marry her meal ticket and get out of her bogus day job. When she's dumped by her fiancé, she sets her plan in motion to win over a rich, handsome substitute (Justin Timberlake) – competing for his affections with an overly energetic colleague, Amy (Lucy Punch). When Elizabeth also finds herself fighting off the advances of a sarcastic, irreverent gym teacher (Jason Segel), the consequences of her wild and outrageous schemes give her students, her coworkers, and even herself an education like no other.