Neill Blomkamp's 'Elysium' Gets The Zack Snyder Release Date In 2013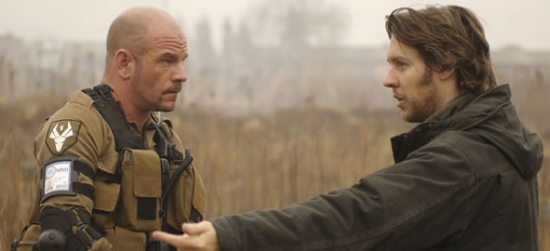 Briefly: Sony has announced that District 9 director Neill Blomkamp's second feature Elysium will hit theaters on March 8th 2013. The second weekend in March is a release date made popular by director Zack Snyder, who famously opened the R-rated comic book adaptation 300 to a record $70.9 million opening weekend. Snyder has also opened Dawn of the Dead and Watchmen on the same weekend. So far, Elyisum has the March 8-10 weekend to itself — but that is bound to change.
Previously:
The film stars Jodie Foster, Matt Damon, Sharlto Copley and Wagner Moura. The movie will be R-rated, set 150 years in the future and has the social allegory elements ala District 9. Plot details are minimal, but Blomkamp has described that the story as "totally original," "very violent, and very unique." He has also said that "It is absolutely another science fiction film, quite different from District 9, but some of the blending of genres and the tone might be within the same realm." Damon's character is an ex-con. Moura's villain character is "described as having a crazy sense of humor."
Syd Mead, aka the 'futurist' who created many of the most memorable designs for Blade Runner will be designing sets for the project. Elysium is reportedly set to shoot starting late this spring, with production kicking off in Vancouver before moving to Mexico. Sony is set to distribute the film worldwide.