Casting Bits: Jeffrey Donovan In 'J. Edgar'; Juliette Lewis In 'Hick'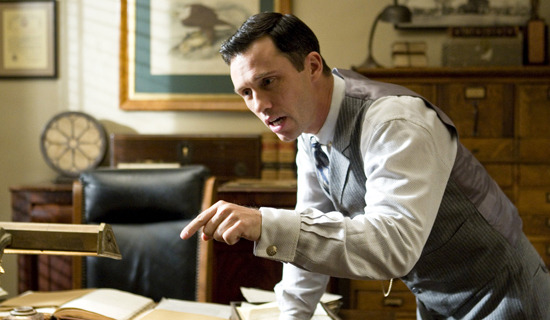 Clint Eastwood's J. Edgar has been shooting for a while now with Leonardo DiCaprio playing J. Edgar Hoover and Armie Hammer as Clyde Tolson, but the film keeps adding actors to fill out small roles. The last was Stephen Root, and the latest is now Jeffrey Donovan of Burn Notice. The actor said today via Twitter that "I fly to LA Sunday. I have been [cast] as Bobby Kennedy opposite LD in HOOVER. excited. working with Mr Eastwood again. Dreams come true."
So it's a mini-Changeling reunion (Eastwood and Donovan, as seen in the still above), and I'm happy to hear that he'll be playing RFK. The slain Attorney General was both a colleague and to some extent an enemy of Hoover, so there should be a scene or two with fireworks between he and Leonardo DiCaprio. [via Collider]
After the break, Juliette Lewis joins Chloe Moretz, Blake Lively and Eddie Redmayne in Hick.
In Hick, Chloe Moretz plays "a 13-year-old Nebraska girl who gets more than she bargained for when she runs away to Las Vegas."
We don't know who Juliette Lewis will play, but she's a welcome addition, being an actress who is often stronger than some of the less than impressive projects she has appeared in over the past couple years. Blake Lively is "a grifter who meets Moretz's character on the road and takes the girl under her wing. Eddie Redmayne would play another loner who tries luring Moretz away and also shares a past with Lively."
Derick Martini (Lymelife), directs the film, which adapts Andrea Portes' novel of the same name. (The author wrote the script, too.) [Variety]