'Fast Five' Trailer #2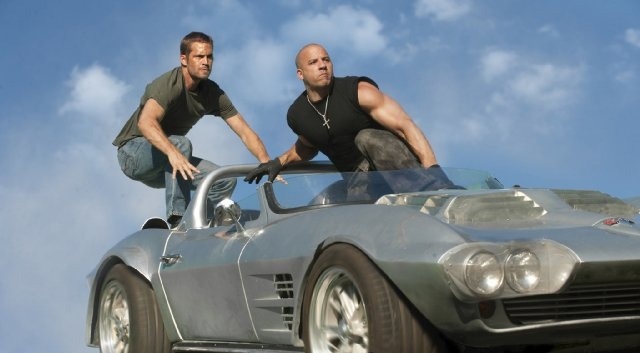 Yahoo Movies has just premiered the brand new trailer for Fast Five, the fifth film in the Fast and the Furious franchise, scheduled for release on April 29. Stars Paul Walker, Vin Diesel, Jordana Brewster, Ludacirs, Tyrese and Sung Kang all return from the previous films and face off against a specialized law officer played by Dwayne Johnson. Directed by Justin Lin, who also did the third and fourth films, it will play in both regular and IMAX formats. Check it out the new trailer after the jump.
Here's the trailer thanks to Yahoo Movies.
Maybe I'm just a mark for scantily clad women, cool cars and Dwayne Johnson fighting anyone, but that trailer made me smile from ear to ear. The first trailer was awesome enough, revealing a whole bunch of huge action set pieces, but this one just takes it over the top, showing trucks crashing into trains, cars flying off cliffs, people making out while racing and a guy wearing a championship belt. Everything screams "mission insanity."
My main worry with Fast Five, however, is that it could follow in the footsteps of the fourth film, Fast and Furious, and focus too much on the crime and not as much on the cars and racing. For me, that was always the best thing about the series and why I find Tokyo Drift to be so much fun. Johnson's line, in both this trailer and the last one, of "never letting them get into cars" seems to suggest that the automobiles are more important this time around and if that's true, then Fast Five has the potential to the most fun film in the series.
Is this a film you are excited for or do you feel like the franchise has worn out its welcome? Are you able to switch your brain off to crappy dialogue, acting and story to enjoy something that's meant to be just pure action nonsense?