See Images From The Never-Produced Circle 7 Sequel To 'Monsters, Inc.'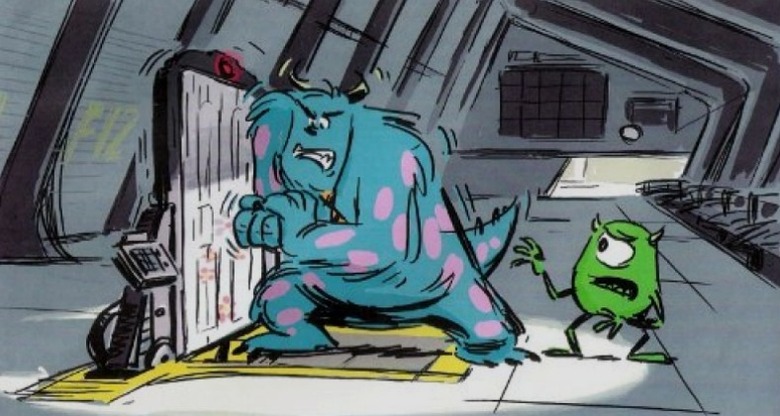 Back in 2005, when it seemed like Disney and Pixar would be dissolving their partnership, Disney set up a studio called Circle 7 to take advantage of the fact that it still held the right to make sequels of Pixar's film under a previous agreement. The studio was shut down in 2006, once Disney agreed to acquire Pixar, but not before Circle 7 employees had already begun work on sequels like Monsters, Inc. 2 and Toy Story 3. Circle 7's plans for those films were scrapped completely; the Toy Story 3 that came out last year and the Monsters, Inc. 2 that's due out next year bear no resemblance to Circle 7's earlier ideas.
Yesterday, however, two of the screenwriters behind Circle 7's Monsters, Inc. 2: Lost in Scaradise — Bob Hilgenberg and Rob Muir, or Bob & Rob, as they call themselves – offered an intriguing glimpse at the never-produced film when they posted some of the artwork for their unproduced script. See images and read the concept after the jump.
It's impossible to say how the final product would've turned out, much less how it would've compared to Pixar's version of the Monsters, Inc., follow-up that's scheduled for 2012. But it certainly is a cute idea that lends itself well to humor, adventure, and heart — all the qualities you'd want from a Pixar movie. And for what it's worth, Jim Hill of Jim Hill Media reports that he's "heard dozens of animation insiders sing the praises for Monsters, Inc. 2: Lost in Scaradise," and that in fact Lost in Scaradise "was supposedly as good — if not better — than the original film." Oh, well. Another title to add to your imaginary library of films that never were.
Little is known about the actual Monsters, Inc. follow-up at this point, though it's rumored that it'll be a prequel centered around Mike and Sulley's university days. No director has been announced.
Rob & Bob also posted art from their unproduced Toy Story 3 concept last year, in which a malfunctioning Buzz Lightyear finds himself recalled to Taiwan. Pixar's Toy Story 3, which was released last spring, was completely unrelated to Bob & Rob's version.
I've included a gallery of some of the artwork from Bob & Rob's unproduced Monsters, Inc. sequel below, but I highly recommend you click over to their site and see the whole two-minute presentation in video form as well.