Guillermo Del Toro To Direct 'Pacific Rim' [UPDATED]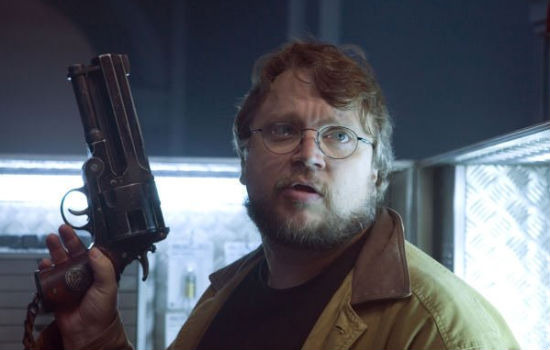 UPDATED: Much happened rather quickly this evening. AICN reports that Pacific Rim will be Guillermo del Toro's next film, and the director responds to an email from the Criterion Cast asking about a green light for At the Mountains of Madness with "The opposite-  Dead." So At the Mountains of Madness seems to be gone. Let's hope that some of the info below — that GDT might return to Mountains after making Pacific Rim — turns out to be true. (Do I really believe that will happen? No.) Original article follows.
Today is all about the ill-timed follow-up stories. We had a Martin Scorsese twofer earlier, and now here's your second Guillermo del Toro update in as many hours.
Last year Legendary Pictures bought the Travis Beacham script Pacific Rim, which is a tentpole project with monsters and big destruction. There was a moment where the script was rumored to be the basis for Legendary's new Godzilla movie, but that was quickly set right: Pacific Rim is something entirely different. Now there is a report that, due to the lengthy timeline in getting Universal to greenlight the H.P. Lovecraft adaptation At the Mountains of Madness, there is a chance that Guillermo del Toro will direct Pacific Rim as his next film.
Deadline says that the timeline could look like this: GDT would make Pacific Rim now, and then return to At the Mountains of Madness.
The problem with the Lovecraft adaptation is the same problem that has persisted for some time: it is a very expensive film that is currently expected to net an R. Universal reportedly loves the designs that the team has presented, but is worried about losing money on the film. (And Universal has gambled and lost on several other films in the past few years.)
Guillermo del Toro has reportedly been part of the development process for Pacific Rim, and is ready to jump to the PG-13 film that features "big monsters and the creation of a new world." There was word last year that the film had been offered to him, and while that was denied, it looks like there was reason for the rumor. Here's how Pacific Rim was described last year:
Set in a future in which malevolent creatures threaten the earth, the planet must band together and use highly advanced technology to eradicate the growing menace.
This could be a good move; GDT hasn't had a movie in the public eye since Hellboy II in 2008. The Hobbit ate up a lot of his time — there is no small irony to the fact that The Hobbit, from which he walked away last year, is now gearing up to shoot as Guillermo del Toro is trying to get a film moving. Pacific Rim could make him an even more viable name than he already is, and help build the Christopher Nolan-sized base Universal wants to see before writing a check for At the Mountains of Madness. (Which could be relaunched as a PG-13 project, if all can agree on the changes.)