Exclusive: PaleyFest 2011 'Freaks And Geeks/Undeclared' Reunion Poster; Plus 'Walking Dead' And 'True Blood'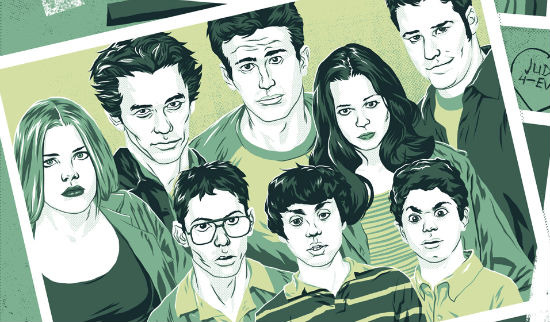 If you watch a lot of television, chances are you've heard of PaleyFest. And if not, here's the scoop. Each year, PaleyFest is an event where some of the biggest shows on television assemble their casts and creative teams for in-depth discussions about the past, present and future of their shows. For 2011, shows like The Walking Dead, True Blood, Eastbound and Down, Community, Supernatural and others are all scheduled to participate and they're even hosting a Judd Apatow TV reunion with nearly the full casts of Freaks and Geeks and Undeclared together on one night.
Plus, this year Gallery 1988 (which you know because they do the awesome pop culture related art shows that we regularly feature) has commissioned several artists to do limited edition screen prints for some of the events. Daniel Danger did a frightening take on The Walking Dead, DKNG Studios gets to the essence of True Blood (NOTE: limited remaining copies of this print are on sale now at Gallery1988.com) and we're proud to be able to exclusively premiere Phantom City Creative's awesome poster for the Freaks and Geeks/Undeclared reunion. You can see a glimpse of it above but, after the jump, check out the whole thing along with The Walking Dead and True Blood.
If you want to attend any of the PaleyFest events in the Los Angeles area (except Glee and Freaks and Geeks, which are sold out) click right here.
And here are the first three posters. Click on each for a bigger version and check back later this week for Eastbound and Down, Parks and Recreations and Glee.
Daniel Danger's The Walking Dead is already sold out at Gallery 1988, though Danger himself will have the final 100 on sale soon on his website. Here's the info on all of the rest.
DKNG Studios's True Blood already went on sale at the event this weekend, but all remaining copies are on sale now at Gallery1988.com
Mike Mitchell's Parks & Recreation will first go on sale at PaleyFest on 3/9
Derek Deal's Eastbound and Down will first go on sale Paleyfest on 3/10
Phantom City Creative's Freaks and Geeks/Undeclared poster will first go on sale at PaleyFest on 3/12.
Tom Whalen's Glee will first go on sale at PaleyFest on 3/16
Posters are $35 and any remaining copies will go on sale soon after the event at Gallery1988.com.
Which poster is your favorite?