Page 2: Terminator, Will Eisner, Back To The Future, Morgan Spurlock, Harry Potter, Karate Kid, Star Wars, Charlie Sheen, The Smurfs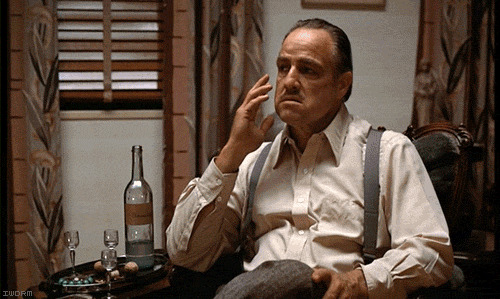 What is Page 2? Page 2 is a compilation of stories and news tidbits, which for whatever reason, didn't make the front page of /Film. After the jump we've included 50 different items, fun images, videos, casting tidbits, articles of interest and more. It's like a mystery grab bag of movie web related goodness. If you have any interesting items that we might've missed that you think should go in /Film's Page 2 – email us!
Header image: A Godfather animated gif tribute by If We Don't, Remember Me.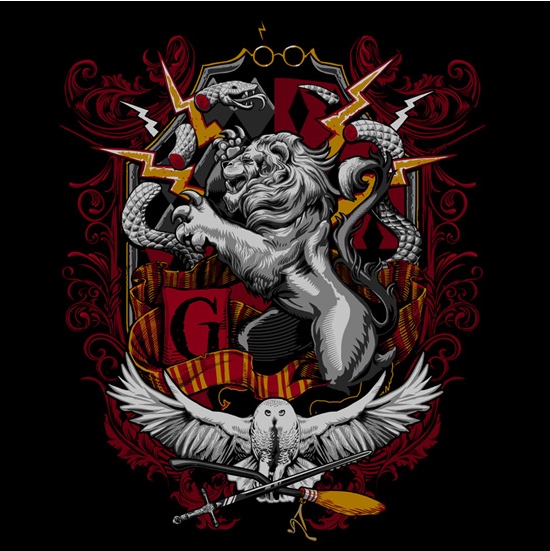 The t-shirt of the day on TeeFury is Jimiyo's reimagined Gryffindor house crest from Harry Potter. The t-shirt will be available today only, and for only $10 plus shipping.
Mini-Geek Deal: Best Buy has a bunch of Blu-rays on sale: Office Space, Napoleon Dynamite, Dodgeball: True Underdog Story, or Super Troopers $7 each with Printable Coupon (in-store only).

Google celebrated comic book legend Will Eisner's 94th birthday on March 6th with a Google logo tribute featuring The Spirit.
Producers Christian Taylor (Hick) and Eva Orner (Taxi to the Darkside) have picked up rights to the young adult novel Half Brother by Kenneth Oppel.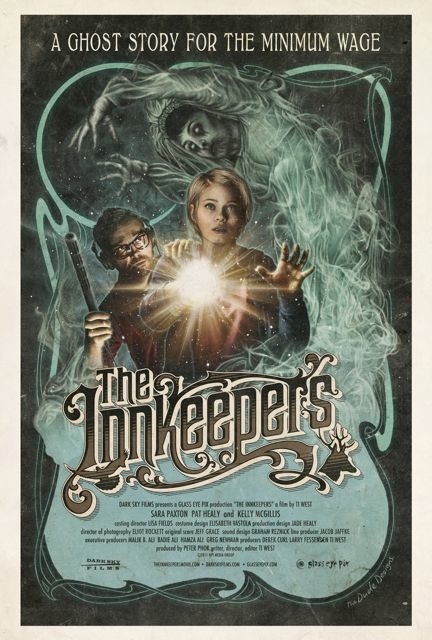 AICN has premiered a poster for Ti West's The Innkeepers.Blastr lists 12 things you need to know to catch you up on The Event's return.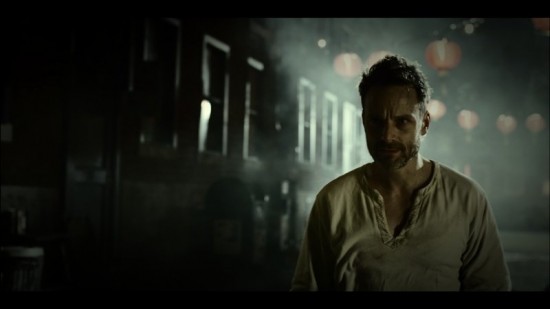 Another Mortal Kombat: Rebirth set photo featuring Ryan Robbins as Raiden.
Movieline lists Five Non-John Hughes '80s Teen Comedies That Are Still a Bajillion Times Better Than Take Me Home Tonight.
Due to the amount of graphics and images included in Page 2, we have to split this post over a BUNCH pages. Click the link above to continue the second page of Page 2.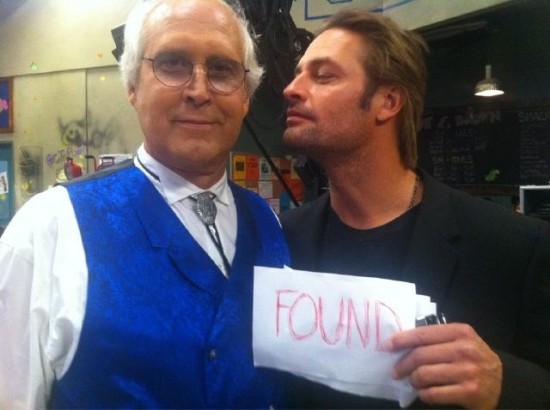 Dan Harmon tweeted this photo of Josh Holloway (Sawyer from Lost) on the set of Community with Chevy Chase.IO9 listed 10 Great Philip K. Dick Stories that Hollywood Hasn't Filmed Yet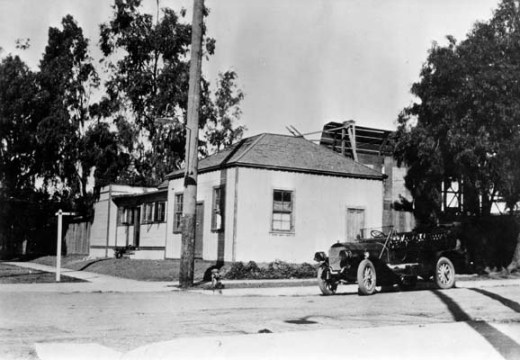 Hollywoodland has a good article on Blondeau's Tavern at the northwest corner of Sunset and Gower in Hollywood, which became Hollywood's first film studio in 1911.Teresa Palmer has co-written a film titled Track Town, which she says: "I'm just so passionate about that role. It's basically a road movie—it's the 'The Wackness' meets 'Thelma & Louise'—and it takes place in Australia in the mid-90s, in Adelaide, and it delves into the hip hop culture. [It's about] two girls and they have to deal with the ramifications of their actions when they accidentally kill a seventeen-year-old boy. It's a pretty dark film, but there's humor in there as well."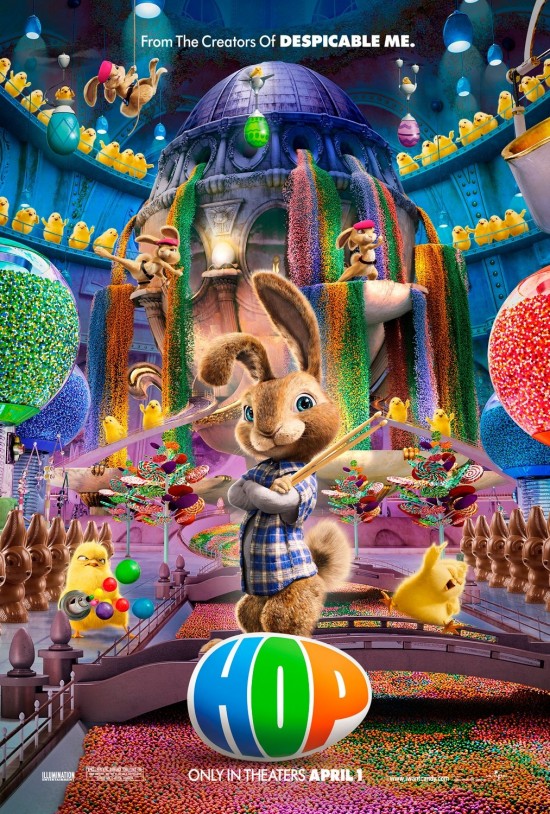 Universal has released a new movie poster for Hop.
Moviefone lists The 5 Best Philip K. Dick Movies ... and 5 More We'd Like to See
/Film reader Darren I sent over this Star Wars-inspired parody of Queen's Bohemian Rhapsody, titled "Midichlorian Rhapsody"
The official website for Scream 4 has launched, and you can become one of Sidney's friends.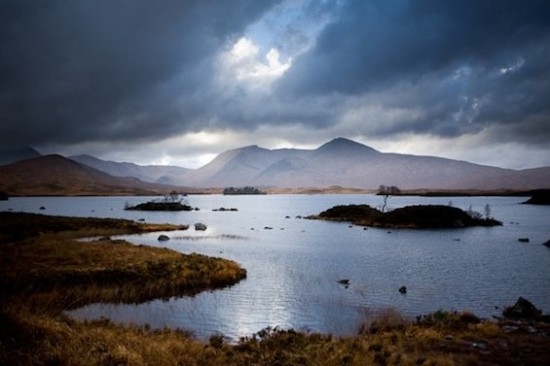 Ridley Scott's Prometheus is planning to shoot in Scotland in August, here is a possible location photo.The Playlist lists 10 animated films even more gloriously weird than Rango.
Due to the amount of graphics and images included in Page 2, we have to split this post over a BUNCH pages. Click the link above to continue the third page of Page 2.
Watch this retro 1950's educational video called Terminator Rudeness.
Morgan Spurlock has been named CinemaCon Documentary Filmmaker of the Year.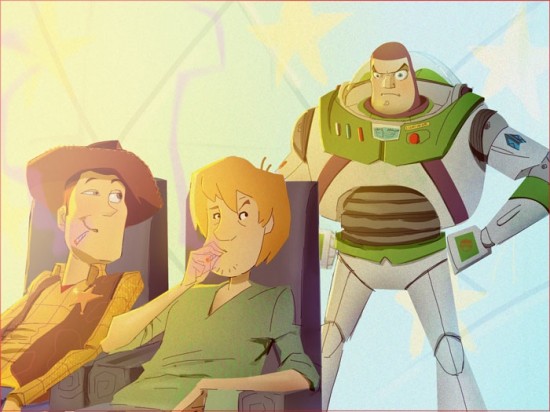 Coran "Kizer" Stone created this Toy Story/Scooby Doo mash-up.
Vulture lists the six kinds of characters who wear Hawaiian shirts.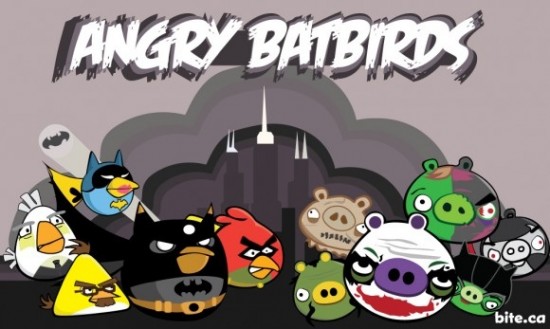 Bite.ca have created a mash-up for Angry Birds and Batman.
Universal Pictures has acquired the John Phillips spec script Dirty Grandpa about "a recently widowed older man who gets to know his grandson who is about to marry a girl who is not right for him."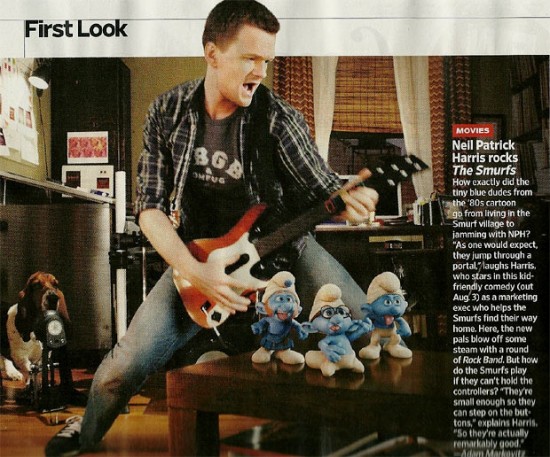 Entertainment Weekly has published a new photo of Neil Patrick Harris in The Smurfs.
Sex Drive screenwriters Sean Anders and John Morris are in talks to direct the Adam Sandler-Andy Samberg comedy I Hate You Dad for Columbia Pictures.
Watch this new video of Disneyland's new talking Mickey at Disneyland.
Anthony Bourdain talks about his favorite films for foodies.
Due to the amount of graphics and images included in Page 2, we have to split this post over a BUNCH pages. Click the link above to continue the fourth page of Page 2.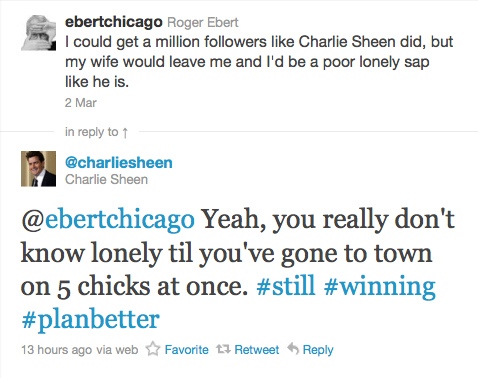 Charlie Sheen vs. Roger Ebert. [IHC]Cracked lists 6 Giant Blind Spots In Every Movie Alien's Invasion Strategy.
Cimemash: Brian De Palma's Carrie meets AIR's "Redhead Girl."
Topher Grace talks to Rotten Tomatoes about his favorite movies: Say Anything, Less Than Zero, The Breakfast Club, Fast Times at Ridgemont High, Dazed and Confused, American Graffiti.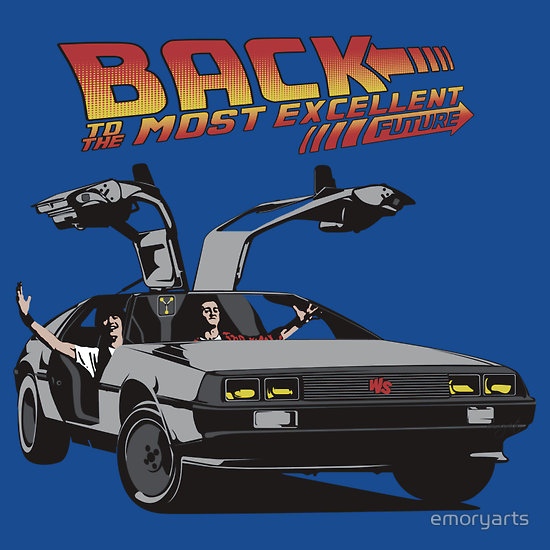 RedBubble is selling this awesome Bill and Ted's Excellent Adventure/Back to the Future mash-up t-shirt.Complex lists The 15 Most Badass Animals In Movies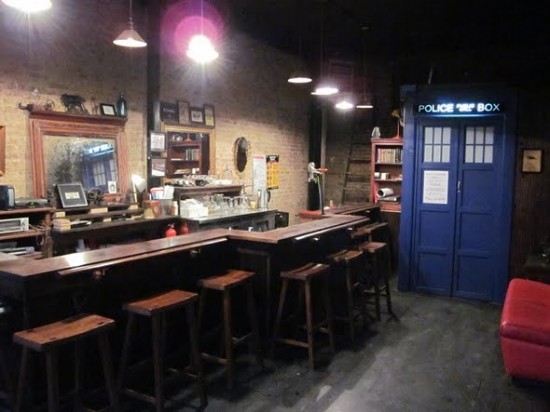 The Way Station, a Brooklyn Steampunk bar, has installed a Tardis from Doctor Who, as an entrance to the bathroom.
LikeMe lists The 10 Crappiest CG Animated Movies of All Time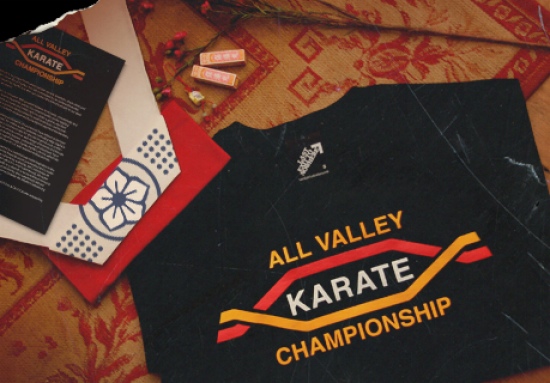 Last Exit To Nowhere has released a All Valley Karate Championship t-shirt, the tournament from the 1984 film The Karate Kid.Emily Blunt has dyed her hair blonde for Rian Johnson's Looper.
Due to the amount of graphics and images included in Page 2, we have to split this post over a BUNCH pages. Click the link above to continue the fifth and final page of Page 2.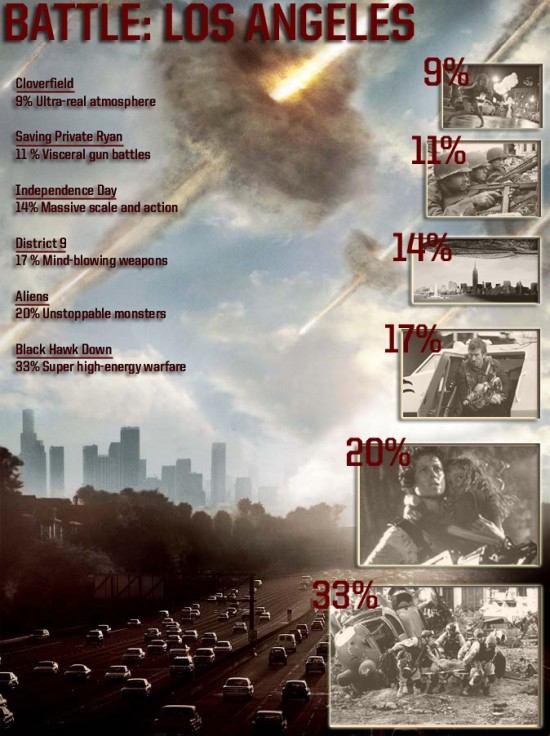 Columbia Pictures has created an infographic showing the elements of Battle: Los Angeles.
Rotten Tomatoes talks to Malin Akerman, Kate Mara and Josh Radnor about their five favorite movies.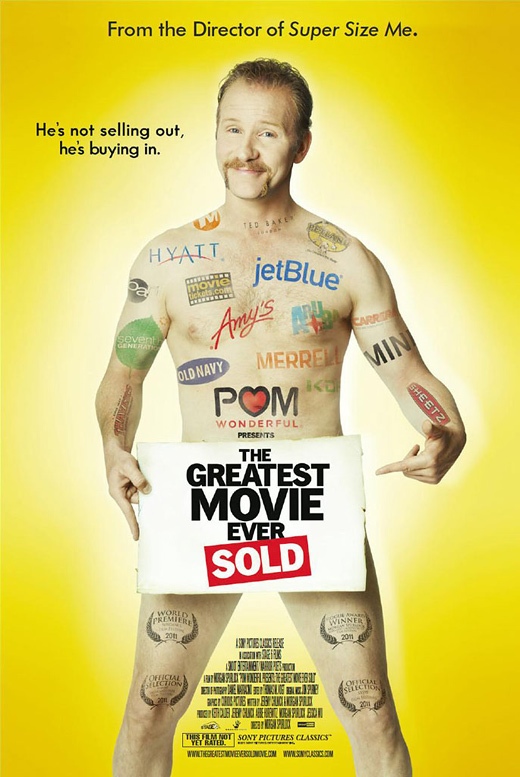 Yahoo has premiered the poster for Morgan Spurlock's POM Wonderful Presents: The Greatest Movie Ever Sold.FirstShowing's Cate Hahneman has an editorial about why documentaries can and should be considered cool.
Someone has created a Charlie Sheen/Darth Vader mash-up.
HBO has announced plans for individual Rome Blu-ray releases of the two seasons this summer.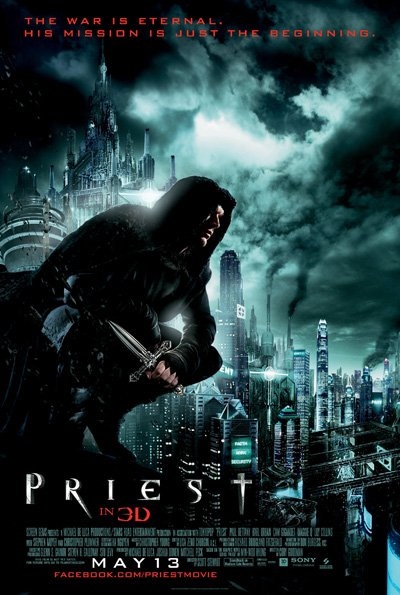 Sony has released a new movie poster for Priest.
Script Shadow lists 10 Screenwriting Tips You Can Learn From Raiders Of The Lost Ark
Best Buy pulled Burlesque Blu-rays off the shelf due to a promotional free corset included with purchase.
Spider-Man: Turn Off the Dark has been slapped with three workplace safety violations from the U.S. Department of Labor's Occupational Safety and Health Administration, issuing a $12,600 fine.