Chris Pratt And Rhys Ifans Join Nicholas Stoller's 'Five-Year Engagement'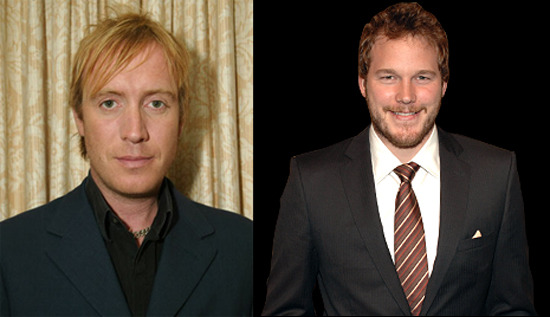 Nicholas Stoller is preparing to direct his third film, Five-Year Engagement, which will be an unrelated follow-up to Forgetting Sarah Marshall and Get Him to the Greek and mark his return to directing after a screenwriting detour for The Muppets (yay) and Gulliver's Travels (yay, paycheck!). This film, a romantic dramedy of sorts, stars Jason Segel and Emily Blunt as a couple in, as the title suggest, a long run-up to marriage. Yesterday Alison Brie (Community, Mad Men, Scream 4) was cast as Emily Blunt's sister.
Now Chris Pratt (Parks and Recreation) and Rhys Ifans (The Amazing Spider-Man) are boarding, too.
Variety announces the casting, but doesn't detail the roles that either actor will play. The film sounds as if it is Nicholas Stoller and co-writer Jason Segel veering decidedly into Judd Apatow's directorial turf, and I'll be patient to see how that turns out. I like the slightly more anarchic spirit that we've seen in the previous two Stoller/Segel movies, and I'm hoping to see some of that applied to The Muppets (which they co-wrote) as well.
Both these actors are great additions to the cast, which in general is shaping up to be pretty damn impressive. I hope I don't have to say anything by way of introduction to Rhys Ifans, who typically shines even in otherwise mediocre films. And you can hit Hulu for clips of Parks and Recreation's much-improved second season to see Chris Pratt scoring hits on a weekly basis; he's also got roles as real-life ballplayer Scott Hatteberg in Moneyball and as 'Disgusting Donald' in the comedy What's Your Number?