'Dylan Dog: Dead Of Night' Trailer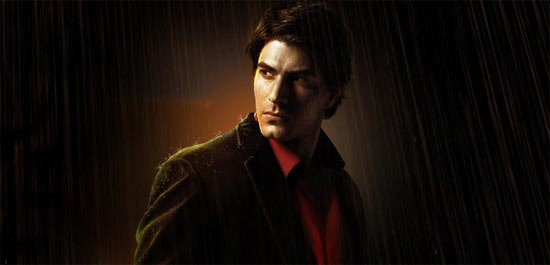 Someone must've watched Superman Returns and thought Clark Kent and Jimmy Olsen made a fun pairing, because the duo behind the roles are teamed up once again in Dylan Dog: Dead of Night. The film is an adaptation of the Italian horror comics series about a paranormal investigator whose latest case finds him dealing with all manner of vampires, werewolves, zombies and guardians of Hell. Brandon Routh stars as the eponymous lead character, and Sam Huntington joins him as his undead assistant/comedic relief sidekick. Taye Diggs, Peter Stormare and wrestler Kurt Angle also appear in various villainous capacities. We saw a low-res Italian trailer for the film last month, but now there's a domestic trailer. Watch it after the break.
The voice over narration in this trailer is dreadful, but ignore that and you have a movie that looks like it could deliver enough fitfully amusing bouts of creature mayhem and supernatural weirdness to be worth a viewing. (Probably a viewing best saved for home video, but a viewing nonetheless.) I'm mainly interested to see it for Brandon Routh, who I've been rooting to find another breakout role ever since audiences walked away unimpressed from his attempt to embody a superhero already made so iconic by Christopher Reeve. This doesn't look like the film to do it. But maybe it's a step in the right direction.
Dylan Dog is directed by Kevin Munroe, who has helmed only TMNT previously. Live action is obviously a very different beast than animation though, so as much as I enjoyed that film, it has very little bearing on what we can expect from this project.
Disappointingly, one of the coolest sounding things about the comics had to be changed for the movie due to a rights issue: Originally, Dylan Dog's sidekick character was a Groucho Marx impersonator. Alas, there were production issues in acquiring the rights to use the Groucho Marx name and style, so the character was ultimately changed to the undead Marcus. Bummer. Other changed details that fans of the comic book might not be so thrilled about: the film is set in New Orleans instead of London; Dylan is more of an adventurer a la Indiana Jones than a romantic loner; the black humor, surrealist style and melancholy tone have been done away in favor of something lighter and goofier and more crowd pleasing. But those minor alterations aside, this is a totally faithful, reverent adaptation. Honest.
Dylan Dog: Dead of Night releases in theaters April 29, 2011.
Watch the trailer below, or check it out in HD at Apple.
Here's the plot synopsis:
DYLAN DOG: DEAD OF NIGHT is a new horror/comedy film based on one of the world's most popular comics (60 million copies worldwide). Brandon Routh stars as Dylan Dog, world famous private investigator specializing in affairs of the undead. His PI business card reads "No Pulse? No Problem." Armed with an edgy wit and carrying an arsenal of silver and wood-tipped bullets, Dylan must track down a dangerous artifact before a war ensues between his werewolf, vampire and zombie clients living undercover in the monster infested backstreets of New Orleans.