Paramount Developing 'First Man' And 'Mustache Riders' For Johnny Knoxville And 'Jackass' Crew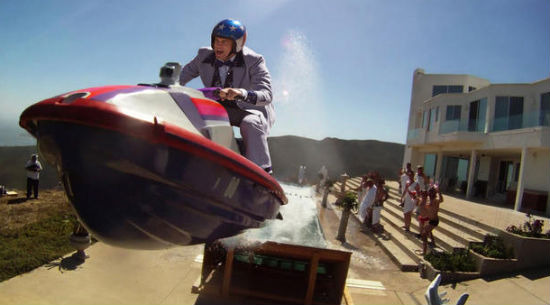 Mere days before the mega-hit Jackass 3D (without the D) hits DVD and Blu-ray, Paramount is taking steps to make sure they remain in the Jackass business. First up, they've purchased a pitch called First Man which will star Johnny Knoxville as a rowdy guy whose wife is elected President of the United States. Second, they're revamping a previously purchased project called Mustache Riders that follows three crooks who search for buried treasure with a "grizzled old outlaw." The three crooks would be played by Knoxville, Bam Margera and Ryan Dunn while the outlaw would be Willie Nelson. You can't make this stuff up. Read more about both films after the break.
Deadline exclusively broke the news about Paramount wanting to stay in the Jackass game.First Man will be written by Matt Spicer and Max Winkler and produced by Dickhouse Entertainment. Winkler's directorial debut, Ceremony, opens next month, starring Uma Thurman and Michael Angarano. Here's how Deadline described First Man:
Knoxville will play a man whose wife is elected president. A natural hellraiser, he has totally behaved himself during his wife's presidential campaign, only to find the dynamic of their relationship changes after he moves into the White House and becomes First Man. He is prompted to return to rowdy form.
Mustache Riders has been at Paramount for several years but with Knoxville, Margera and Dunn all now interested, the script is being rewritten to incorporate more stunts which, of course, the guys would do themselves. Broken Lizard, the team behind Super Troopers and Beerfest, is set to produce.
What does this all mean? Well, one would think Paramount is buttering up the boys with some nice, easy, scripted work so that in a few years they can hit them up, pun intended, to make another Jackass film. Jackass 3D made about $120 million at the domestic box office against a modest $20 million budget, according to Box Office Mojo.
We've seen Knoxville star in films before so he kind of makes sense in both these ideas. But do you think Dunn and Margera will be able to play characters other than themselves? And how do Chris Pontius and Steve-O feel about this?