New 'Scream 4' Photos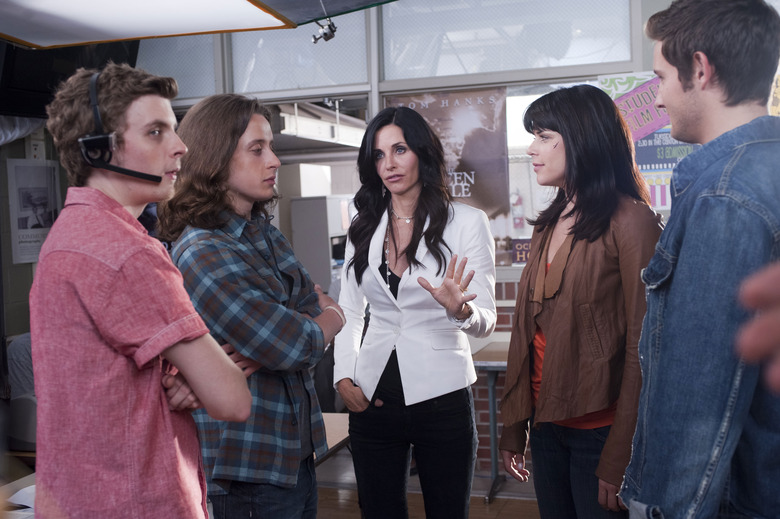 We're just over a month away from the April 15 release of the 11-year in the making fourth installment in the Scream saga, Scream 4. In this new version, Sidney Prescott (Neve Campbell) is a best-selling author who comes back to town to do a book signing. There she reunites with some friends (David Arquette and Courteney Cox), family (Emma Roberts and Mary McDonnell) and also the Ghostface killer. Check out four, brand new, official images and more after the jump.
Click on each image for a much larger version.
Once again, here's the latest trailer from the film.
Here's the plot description of the film from Fandango.
Sidney Prescott (Neve Campbell) comes face to face with her greatest fear after returning home to Woodsboro and getting caught in the center of another bloodbath in this sequel from director Wes Craven and screenwriter Kevin Williamson. Touring the country in promotion of her new self-help book, Sidney arrives in Woodsboro and quickly reconnects with her old friend Sheriff Dewey (David Arquette), who has recently gotten married to Gale Weathers (Courteney Cox). Though a much-welcomed family reunion with her aunt Kate (Mary McDonnell) and cousin Jill (Emma Roberts) goes a long way in helping Sidney lay her tragic past to rest, old fears come back with a vengeance when Ghostface reappears on a murderous mission to make up for lost time.
Last we heard, director Wes Craven was doing some reshoots to punch up a few scenes in the film, which got pretty decent buzz a few months ago at an early test screening. Even so, no matter how meta the film gets, there's no way they'll be able to match the wit and surprise of the 1996 original. As a Scream fan, I'm hoping for something just between the perfection of that film and the "it's entertaining but in a way less clever way" feeling of the sequel. If Scream 4 is the second best film of the franchise, I'll be satisfied. Do you agree?