'Legend Of The Fist: The Return Of Chen Zhen' Trailer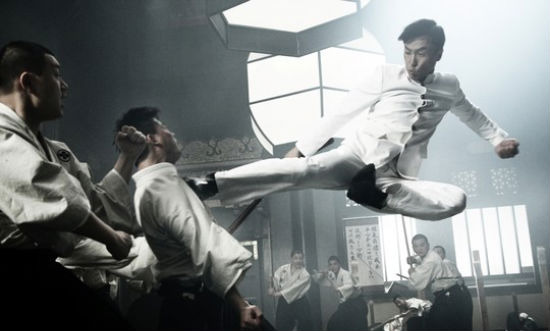 From Andrew Lau, the director of Infernal Affairs (which was remade into Best Picture winner The Departed), comes a brand new martial epic starring the legendary Donnie Yen. Legend of the Fist: The Return of Chen Zhen is set to open April 22 and features pretty much anything you'd want in a martial arts film: huge battles and fast action wrapped around a period war story about mistaken identity and national pride. Read a mini-review of the film, the plot synopsis and, of course, see the brand new trailer after the jump.
We'll get this ball rolling with the brand new trailer. Check it out in HD over at Apple.
Next up, here's the official plot synopsis:
In 1925, the nation of China is divided by infighting, and Japan has become the most powerful force in Asia. With the city of Shanghai torn in half by international conflict, Club Casablanca has become a hotbed of spies, mobsters, English officials and the Japanese military- all looking to gain control of the country, with little regard for what happens to its citizenry. Into this den of intrigue enters Chen Zhen (Donnie Yen), who has returned to China after fighting alongside the Allied forces in Europe, bringing some dark secrets from his past along with him. During the day, he's known as "Qi", and appears to be just another wealthy playboy. But at night, he takes to the street as a masked warrior, determined to subvert the Japanese invasion while becoming entangled with the sultry Kiki (Played by Shu Qi), who has a dangerous secret of her own. When his past catches up to him, Zhen is faced with near impossible odds- but his skills are formidable, and he's up to the challenge.
Finally, this film premiered at Fantastic Fest 2010 and I was lucky enough to check it out. Here's a my mini-review from when I was at Collider:
Legend of the Fist: The Return of Chen Zhen is a brand new Hong Kong martial arts epic set in the roaring Twenties. It stars legendary martial arts star Donnie Yen as Chen Zhen, a World War I hero who leaves his reputation in Europe by coming home and assuming the identity of a fallen comrade. Life doesn't change much for the Chinese after the war, though, and Chen Zhen is forced to become the Masked Warrior to inspire hope in his people by beating other people up. Filled with double crosses, incredible action and an intriguing political story line, Legend of the Fist is about as good as one can hope for when sitting down for a Hong Kong action film. But that's about it. It never falters, but after an excellent opening sequence, it never provides any moments of true awe. I mean, it ends with Chen Zhen fighting 100 guys in a dojo for crying out loud! And it's a war movie! We've seen it before and we'll see it again.
Are you excited for this one?