'Tron Uprising' Animated Series Trailer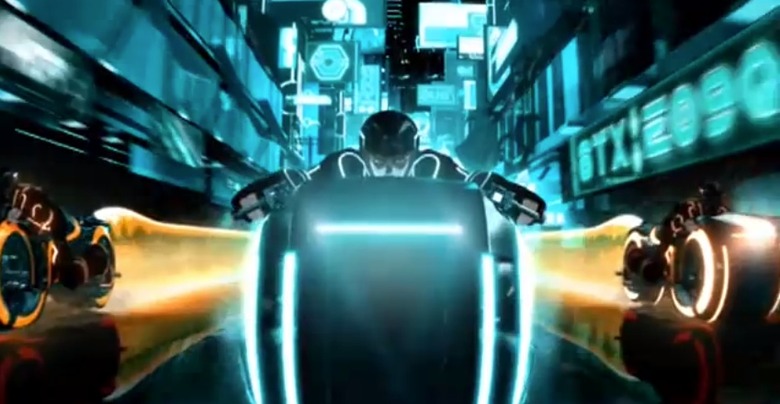 Part of the whole plan with Tron: Legacy was to launch a multi-platform new franchise which would span the movies, potential sequels, video games, animated television projects and maybe even a theme park attraction.
The animated series Tron: Uprising voice cast includes Elijah Wood, Emmanuelle Chriqui, Mandy Moore, Paul Reubens, Nate Corddry, Lance Henriksen and Tron himself Bruce Boxleitner. It is directed by Charlie Bean, Joseph Kosinski and Sean Bailey, and is written by Tron: Legacy writers Edward Kitsis and Adam Horowitz. The story is set between the original Tron and before Tron: Legacy.
The first trailer is included on the new Tron Legacy DVD/Blu-ray set. Watch it now embedded after the jump and please leave your thoughts in the comments below.
Here is a quick plot synopsis thanks to wikipedia:
Beck, a young program who becomes the unlikely leader of a revolution inside the computer world of The Grid. His mission is to free his home and friends from the reign of the villainous Clu 2 and his henchman General Tesler. Beck will be trained by Tron – the greatest warrior the Grid has ever known. Tron will not only teach Beck the fighting skills he needs to challenge this brutal military occupation, but will be a guide and mentor to him as he grows beyond his youthful, impulsive nature into a courageous, powerful leader. Destined to become the new protector of the system, Beck adopts Tron's persona and becomes the archenemy of Tesler and his oppressive forces.
Tron: Uprising will begin airing on Disney XD (which I'm told is the Disney Channel's answer for boy programing) during the Summer of 2012, after a a 10-part micro-series this Fall.