Jennifer Lawrence Up For 'Hunger Games' Lead, Hailee Steinfeld In Running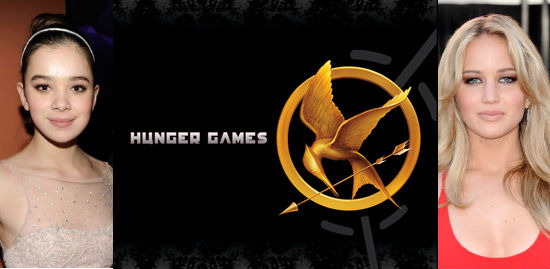 Director Gary Ross knows, the studio knows, the author knows and the fans definitely know. Without an amazing actress in the lead role of Katniss Everdeen, the film adaptation of the popular book The Hunger Games by Suzanne Collins will be a failure. In the past, Ross has said Lionsgate wasn't pressuring him to cast a movie star in the role and that the actress had to bring a "deep and fierce" truth to the role. With that in mind, two recent Oscar-nominees seem to both be in contention.
At the Oscars, True Grit star and Oscar-nominee Hailee Steinfeld confirmed that she had met with Ross to discuss the role and now Lainey Gossip is reporting that another Oscar-nominee, Winter's Bone and X-Men: First Class star Jennifer Lawrence, has already read for the role. Read more about each after the break.
[UPDATE: Variety has confirmed both of these names as well as Abigail Breslin. Original story continues]
Steinfeld had previously commented on her desire to play the role and here's what she said to MTV Sunday from the Red Carpet.
I met with Gary Ross and it's definitely something we're taking one day at a time and making sure everything is in place, everything's ready.
And here's the video.
As for Jennifer Lawrence, here's what Lainey Gossip had to say:
Sources confirmed to me exclusively that [Lawrence] read for it and they loved her. So much. Like no one else they've seen has even come close to what she delivered. The way it was described to me: 'Jennifer really went for it and she blew them away.' I'm told a deal is being hammered out right now. And they're almost there. Some details still need to be finalized, and anything can happen where negotiations are concerned, but they're close. Lionsgate apparently really wants her.
That site also says that, on the Oscar Red Carpet, Lawrence said her mom was currently reading The Hunger Games but couldn't discuss it.
As Cinemablend wisely points out, both of these actresses are solid but have pluses and minuses, mostly because of their ages. In the books, Katniss is a teenager, which would lean toward Steinfeld (especially if the film is a hit and they want to make more than one movie) however, the controversial casting call says the upwards age limit for the role is 20, which fits in Lawrence.
For anyone who has read all of this and has no idea what we're talking about, here's how I described The Hunger Games in the past:
The Hunger Games is set in a dystopian future where the United States has been broken into 12 districts all controlled by a central government. Each year, the government forces the districts to select two children to compete in the nationally televised Hunger Games, a fight to the death where the winner brings glory – and food – to their district. The star is a 16-year-old named Katniss Everdeen who volunteers for the games when her little sister is chosen.
The film is currently scheduled for release just over a year from now, March 23, 2012. Do you think either of these actresses are better for the part? Or should Katniss be an unknown?