Tom Hanks And Tim Allen Team For Disney's 'Jungle Cruise'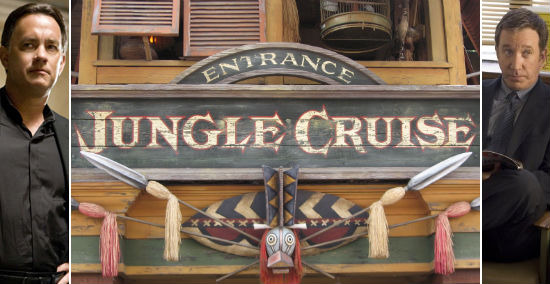 With Pirates of the Caribbean, Disney took a fairly boring theme park ride and turned it into live-action family themed film with one of the biggest stars on the planet: Johnny Depp. That formula seems to have worked out for all involved and now they're going to try it again. Disney has hired screenwriter Roger S.H. Schulman to write a film adaptation of the Jungle Cruise ride and which will star Tom Hanks and Tim Allen. That pair has already made a boatload of cash for the Mouse, as their chemistry helped drive three Toy Story films to financial and critical mega-success. Read more about this project and the ride after the jump.
Deadline broke the news of this developing project, which will be produced by David Hoberman and Todd Lieberman, who produced The Fighter. Schulman previously worked in the family genre with writing gigs on Shrek, The Jungle Book II, Mulan II and on the currently Disney Channel show Jonas.
Disney then confirmed it with this statement:
The Walt Disney Studios is excited to be in development with Mandeville Films and writer Roger S.H. Schulman on a feature film based on the Jungle Cruise, one of the most iconic attractions in Disney theme park history. The film will pair up Tim Allen and Tom Hanks in their first live-action project, after their previous collaborations in the Toy Story trilogy.
Much like Pirates of the Caribbean, the ride not the movie, Jungle Cruise is a leisurely ride along a lagoon with immobile and some animatronic animals. Basically, it offers no suggestions in the terms of story so the possibilities are endless. Here's the description of the ride from the Disney site, where you can also look at photos and videos.
Set sail on a 1930s tramp-steamer tour in the untamed waters of the Mekong, the Amazon and the rivers of Africa. Will your vessel be Sankuru Sadie or Senegal Sal, and will she survive the 9-minute Jungle Cruise intact?
Mother Nature is at her wildest as you pass Audio-Animatronics animals including the Bengal tiger, king cobras, elephants, lions and hyenas in their native habitats. Whether they're feasting on their prey, scaring trespassing humans or splashing water, the animals will keep you on your toes.
As your skipper leads you ever deeper into the jungles past hare-brained explorers and ancient ruins, be prepared for some surprises along the way. Are there really hippopotamus and headhunters lying in wait? Your skipper's sure to regale you with humorous tales of danger.
And here's a video of the ride (there are a whole bunch up on YouTube, but this is one of the shorter ones).
Is there any way this movie isn't a guaranteed hit? Do you think this is a good idea or that Disney is really pulling at strings for more successful franchises?