Judd Apatow Talks Pee-Wee Film And 'Knocked Up' Spin-Off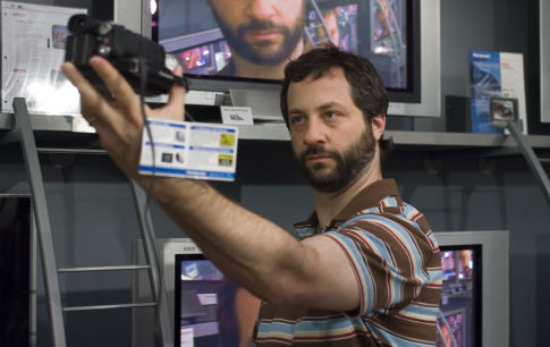 Whether it be with ripping chest hair, unplanned pregnancy or dying comedians, Judd Apatow is always trying to get our attention. In recent months, two things that did just that were announcements that the writer/director/producer extraordinaire would be teaming up with Paul Reubens on a new Pee-Wee Herman movie and that, for his fourth directorial effort, he'd reprise two of the main characters from his film Knocked Up. Apatow has been doing the interview rounds lately and offered some updates on both projects. Read his quotes after the break.
Apatow spoke with Screen Junkies as he was given a humanitarian award by the Venice Family Clinic and here's what he had to say about these two high-profile projects, starting with Pee-Wee:
It's a little early in the process to know [what the film will be about]. He only made two movies so there's a lot of open ground for Pee-Wee. It is many years later so there are different stories to tell.
The film will, however, be strictly be about Pee-Wee, not Paul Reubens. Even so, they still aren't sure if it'll be in the same world as Big Adventure and Big Top:
We haven't talked about [the continuity]. It's more like The Simpsons where in every episode he grew up in a different decade.
Junkies then went on to inquire about Apatow's 2012 film, which will feature Pete and Debbie, played by Paul Rudd and Leslie Mann, the married couple in Knocked Up:
People were really taken by those characters. I think people really emotionally connected to the challenges of their marriage and I thought, you know, they were only a small portion of the movie. I'm a television writer so I always want another episode. I always want another 80 episodes. That's why after Forgetting Sarah Marshall, we said, 'What else can we do with this character Russell Brand has created here?' I felt that way about Pete and Debbie from Knocked Up.
And while initial reports weren't sure if other characters from Knocked Up would appear in this new film, Apatow has changed his tune on that:
I'm trying to figure out how [get other characters from Knocked Up]. A lot of it just depends on people's availabilities and the story I'm trying to tell, who fits into that story. There definitely will be other people from Knocked Up in the movie.
Apatow really didn't say more than that, just that the film is about "where Pete and Debbie are five years later." He also couldn't confirm if Katherine Heigl or Seth Rogen would be in the movie.
Though I didn't love Funny People, I loved Apatow's other films and have the utmost faith in him and his writing. He's a huge fan of Pee-Wee and would probably not make a movie before he made a bad one. Plus, he must really have something to say if he wants to go back to the well for his next film. What do you think?