This Week In DVD & Blu-Ray: 127 Hours, Love & Other Drugs, Faster, Burlesque
This Week in DVD & Blu-ray is a column that compiles all the latest info regarding new DVD and Blu-ray releases, sales, and exclusive deals from stores including Target, Best Buy and Fry's.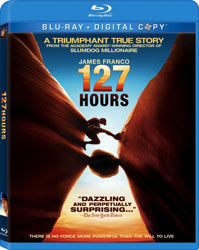 127 HOURS
It would be easier to dismiss the showiness of the overwhelmingly manic, pulsating style of 127 Hours if it weren't so perfectly characteristic of its protagonist. With his earnest zest for life and self-proclaimed superhero status, Aron Ralston refuses to let anything keep him in one place for too long—save for, you know, a big rock. Viewers already know exactly how the movie is going to end the moment his arm gets lodged against that boulder, but the tale remains thrilling all the same. Boyle's cinematically charged approach ensures that not a sensation or hallucinatory memory goes by without the viewer experiencing it in as intimately vivid of detail as the medium will allow, appropriately putting the emphasis on Ralston's emotional journey rather than the pat how-will-he-escape narrative one. It's a rare example of an inspirational true story that doesn't ring false, never feeling clouded by the need to please audiences or adhere to the same emotional artifice as most films of its ilk. That the story ends on a note of life-affirming triumph is of course the expected conclusion, but unlike the phony "heartwarming true story" garbage that studios like Disney churn out at least once a year, 127 Hours earns it.
Available on Blu-ray? Yes.
Notable Extras: DVD – A commentary with Danny Boyle, Christian Colson & Simon Beaufoy, and deleted scenes. Blu-ray – Includes everything on the DVD, as well as 2 featurettes ("Search & Rescue", "127 Hours: An Extraordinary View"), a God of Love short film by Luke Matheny, and a digital copy of the film.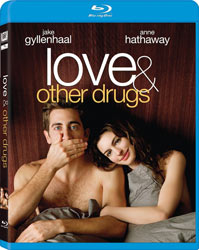 LOVE & OTHER DRUGS
Love & Other Drugs is an unusual departure for Edward Zwick, his film career having turned almost exclusively toward directing war-based thrillers like Glory, Legends of the Fall, The Siege, The Last Samurai, Blood Diamond, and Defiance. It just goes to show, he's the same boringly conventional (albeit generally competent) director no matter what genre he's working in. It isn't a bad film, really; just an unfocused and formulaic one. It jumbles together a number of disparate plot threads (including a half-hearted satire of the pharmaceutical industry) that play out in the expected fashion, and though they're successfully engaging in a mild sort of way—due largely to the frenzied chemistry of Jake Gyllenhaal and Anne Hathaway—they're arriving at a time where it all feels a little too limp and stale. Its greatest asset, ultimately, is its frank sexuality in spite of being a studio movie. By European standards it's still pretty light, but hey, at least we're making progress.
Available on Blu-ray? Yes.
Notable Extras: DVD – None. Blu-ray – Deleted Scenes, Love & Other Drugs: An Actor's Discussion, Beautifully Complex: Anne Hathaway is Maggie, Reformed Womanizer: Jake Gyllenhaal is Jamie, and Selling Love & Other Drugs.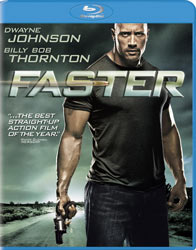 FASTER
This is a real dude's movie. It's all about taking that bottled up hatred inside and releasing it upon those responsible with unflinching, unrelenting aggression. And it's about forgiveness! But mostly the first thing. The film isn't great by any means, but it's an efficient, bare-bones actioner that's only as ludicrous as it needs to be and exactly as stylishly energized as it should be. Spend too long thinking about it though, and you may notice the "Killer" is almost completely irrelevant to the storyline. So don't do that.
Available on Blu-ray? Yes.
Notable Extras: DVD – An Alternate Ending with Director's Introduction, and Deleted Scenes with Director's Introductions. Blu-ray – Includes everything on the DVD, as well as 2 featurettes ("Weapons and Wheels: The Guns, Cars and Stunts of Faster", "Bank Heist").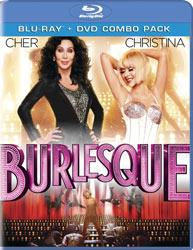 BURLESQUE
I have as much to say about Burlesque as I have interest in seeing the film. Here's the trailer.
Available on Blu-ray? Yes.
Notable Extras: DVD – A director commentary, an alternate opening, alternate full musical performances, and a blooper reel. Blu-ray – Includes everything on the DVD, as well as featurettes ("Burlesque is Back!", "The Performers: The Cast of Burlesque", "Setting the Stage: Production Design & Performers", "Inside the Dressing Room: Creating the Burlesque Look", "The Set List: The Music & Choreography of Burlesque").
EXCLUSIVE DEAL:
What? Free corset with Blu-ray.
Where? Best Buy.
Other noteworthy DVD (and Blu-ray) releases this week...
ReBoot (Seasons 1 & 2) – Genius Within: The Inner Life of Glenn Gould [DVD / Blu-ray] – Cannes Man [DVD / Blu-ray]
Noteworthy Blu-ray-specific releases this week...

NOTES: Some deals may vary by store. Some deals may be in-store only. All deals are for DVDs unless otherwise noted.

Exclusive: Exclusive bonus disc with Bambi Blu-ray/DVD combo ($22.99). Save $10 with printable coupon.
$7 – The Losers, Enchanted, and more...
$16.99 – Mad Men (Season 1 – 3), Burn Notice (Season 1 – 2)
$18.99 – Chuck (Season 3), Smallville (Season 9)
$24.99 – The Office (Season 6), Weeds (Season 6)

Exclusive: Bambi Blu-ray/DVD combo ($22.99). Save $10 with printable coupon.
$14.99 – Chuck (Season 2), Smallville (Season 8), Supernatural (Season 4)

$11.99 – Blu-ray sale: Gattaca, I Still Know What You Did Last Summer, A River Runs Through It, Striking Distance, Superbad, Talladega Nights: The Ballad of Ricky Bobby, XXX: State of the Union
$6.99 – Apocalypto, National Treasure, Shaolin Soccer, Tombstone