When Can We Expect To See More Trailers For 'Transformers 3'?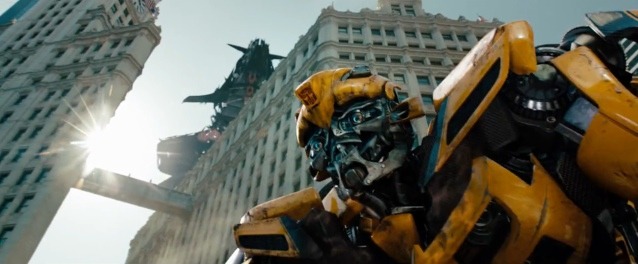 A list of release dates for trailers and tv spots for Transformers: Dark of the Moon has leaked online on Trailer Addict. The list has not been confirmed by Paramount Pictures, but it looks like it could be legit. When can we expect the full-length movie trailer for Transformers: Dark of the Moon? Find out after the jump!
According to the list, we will see a new trailer on March 25th 2011. This trailer is being called a "teaser trailer" (remember, the first trailer was being referred to internally as an "announcement trailer). March 25th is also the release date of Zack Snyder's Sucker Punch, which is where we'd expect to see the teaser. Seems like an odd choice, especially since the March 11th release of Battle: Los Angeles is a much better fit.
The full length trailer will supposedly hit on May 5th 2011, which just happens to be the day before the Paramount-distributed comic book adaptation Thor hits theaters (and yes, in 3D). And trailers usually are released online the day before they are released to a new theatrical release.
And new television spots are scheduled to hit on Reelz channel on April 3rd (a spot titled "Autobots"), MTV on April 21st ("Moon") and June 13th on Nick ("Invade"). Here is the full list:
ANNOUNCEMENT TRAILER – DECEMBER 8, 2010
SUPERBOWL TV SPOT "DARK" – FEBRUARY 6, 2011
DAYTONA TV SPOT "NASCAR" – FEBRUARY 19, 2011
TEASER TRAILER – MARCH 25, 2011
REELZ TV SPOT "AUTOBOTS" – APRIL 3, 2011
MTV TV SPOT "MOON" – APRIL 21, 2011
THEATRICAL TRAILER – MAY 5, 2011
NICK TV SPOT "INVADE" – JUNE 13, 2011
MOVIE RELEASE IN 3D – JULY 1, 2011
5 MINUTE SNEAK PEEK on NICKELODEON – July 25, 2011
DVD TV SPOT 1 – SEPTEMBER 8, 2011
DVD TV SPOT 2 – SEPTEMBER 23, 2011
DVD/BLU-RAY RELEASE – OCTOBER 4, 2011