First Video: 'Violet & Daisy' Starring Saoirse Ronan And Alexis Bledel As Teen Assassins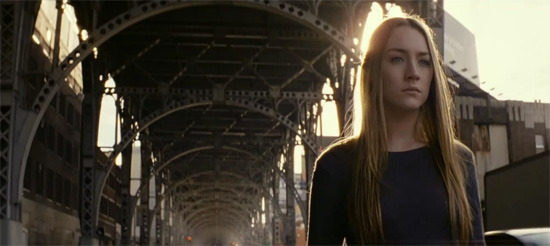 Saoirse Ronan isn't just in one movie about a teen assassin. The first one is Joe Wright's Hanna (trailer), in which the actress plays a girl raised by her ex-CIA father (Eric Bana) to undertake a cross-continental assassination mission.
The other is Violet & Daisy, which was written by Oscar-winning Precious screenwriter Geoffrey Fletcher, who is also making his directorial debut. The film co-stars Alexis Bledel and James Gandolfini. It shot last year and photos and video have been elusive, but some first snippets of footage have come online via the demo reel for the film's cinematographer, Vanja Cernjul. Check out the very nice-looking moving images after the break.
Be aware: the full clip below is not safe for work due to nudity. The Violet and Daisy segments (which are safe for work) run from 0:00-0:13; 1:57-2:00; and 2:16 to 2:25. You can pull a 1080p version, as well.
REMOVED
There's no story at all in these clips, but given that they're in a cinematographer's showreel, that's probably too much to expect. I like the heightened naturalism of the footage, however — there's a great use of light here.
We know that the story "centers on a pair of teenage assassins who are lured into what is supposed to be just another quick and easy job, only to find complications as the man they're supposed to kill is not what they expected." Alexis Bledel is Violet (stepping in for Carey Mulligan, who was once linked), and Saorise Ronan is Daisy. James Gandolfini is likely their target who is not what they expected, and Danny Trejo has a part, too.
Geoffrey Fletcher said last year, "I wanted to make a film that was full of left turns,"  and the script has been pegged in the past as a sort of Thelma & Louise + Superbad + Pulp Fiction, so draw whatever you want from that.
[Shadow and Act via Bleeding Cool]