Quentin Tarantino's Western Script Could Be Delivered Within Two Months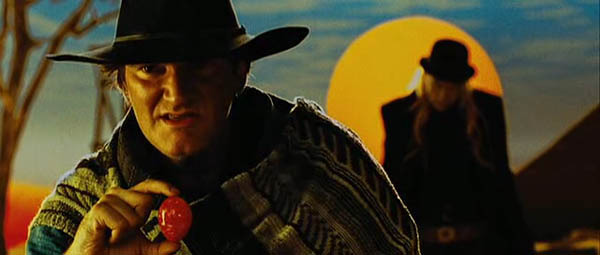 You've got to hand it to Quentin Tarantino: he can go months or even years without a peep, and then he comes out of the gate with a big project. Last time it was Inglourious Basterds, the WWII film that he'd been talking up for years, but actually made in a year, exactly as he said he would when announcing it at Cannes 2008.
Now he's got a Western project. Rumblings of the film emerged last week, then were confirmed yesterday with word that the film is a western that will feature Christoph Waltz and perhaps Franco Nero, Keith Carradine and Treat Williams. Now the director has talked about it at the Weinstein Company Oscar afterparty. In short: he's on track to deliver the script within two months (seemingly to The Weinstein Company) and then get the film before cameras later this year. Quite a turnaround for the director, who was previously known for obsessing over his scripts for many more months at a time.
Deadline talked to the director, who said that a draft of the Western is done and that "compared to recent scripts like Inglourious Basterds and Kill Bill that took so long to crystallize, this one came together much quicker and just flowed out of him."
That seems to counter the last update from Jeremy Smith at AICN, who said that these reports might be "a bit early."
Quentin Tarantino has talked about a western for years, in addition to mentioning possible films like more Kill Bill chapters, a '30s gangster picture, a KKK revenge film, another Elmore Leonard adaptation (40 Lashes Less One) and other possible films.
The western is a promising prospect, however, in part because he has talked about setting it not in Texas, but in the American South, where it could deal with slavery. This could turn the movie into a hot-button topic in the same way that Inglourious Basterds drew the ire of some for fictionalizing WWII. (The first time that war was ever exaggerated or fictionalized in a film, right?)
How do you make a western set away from the frontier of the American West, that being the location that specifically characterizes the genre? Perhaps by defining a different sort of frontier. A primary concern of the western is the conflict between the loose, lawless frontier and the advance of civilization. Stamping out slavery sure sounds like the advance of civilization to me. Quentin Tarantino could still be paying homage to Sergio Leone, as Franco Nero's comments about this film suggest, but if he did that this could be a unique film all his own.