Spencer Susser Adapting His Zombie-Apocalypse Short 'I Love Sarah Jane' Into A Full-Length Feature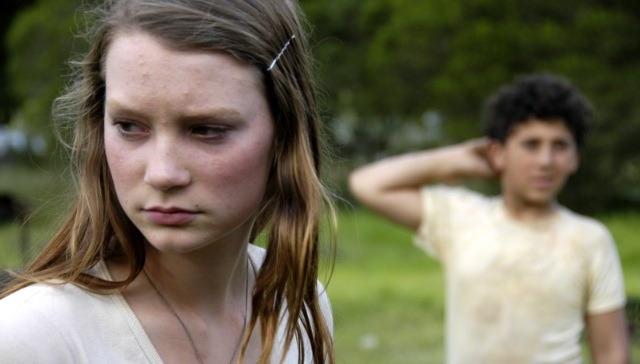 Ever since we first came across Spencer Susser's wonderful short film I Love Sarah Jane in 2008, we've been following the young Australian filmmaker's career with great interest. We featured another short by Susser, A Love Story, in 2010, and Peter Sciretta gave Susser's feature film debut Hesher a positive review at last year's Sundance.
Now it seems that Susser will be going back where he started, and turning his I Love Sarah Jane into a feature length film. The movie takes place in a post-zombie-apocalypse universe, and centers around a 13-year-old boy named Jimbo (Brad Ashby) who is nursing a crush on the no-nonsense Sarah Jane (Mia Wasikowska before she fell down that rabbit hole). Watch (or rewatch) the short film after the jump.
Australia's The Age (via ThePlaylist) reported Susser is currently working a screenplay for the feature-length adaptation of I Love Sarah Jane. Although I find the short version to be kind of beautiful in its simplicity, I'm looking forward to a chance to get to know the world and its characters a little better. I'd love to see Wasikowska back for the feature, but given how many projects she already has on her plate — this month's Jane Eyre, plus The Wettest Country in the World, A View from the Bridge, Albert Nobbs and the already completed Restless — it seems quite possible that he'd have to recast her role.
Assuming Susser is also directing, I Love Sarah Jane would be his second full-length film. Hesher, starring Joseph Gordon-Levitt and newly minted Oscar winner Natalie Portman, received good buzz at Sundance 2010, but has yet to get a U.S. release date.
Susser is part of Blue Tongue Films, a loose moviemaking collective that includes Animal Kingdom director David Michod and The Square director Nash Edgerton. The group members collaborate frequently, often appearing in each other's films as actors or stuntmen. The next feature to come from Blue Tongue will be Kieran Darcy-Smith's Say Nothing, which is due out in Australia sometime this year. Say Nothing does not have a U.S. release date at this time.