Superhero Bits: Mark Ruffalo Reveals Hulk Details, Anne Hathaway Confirms Catwoman, Katee Sackhoff Meets For 'Powers'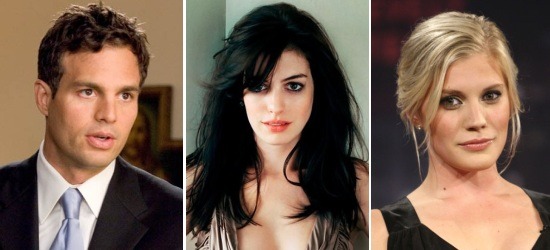 In just the last 24 hours, we've reported on new X-Men: First Class posters, The Amazing Spider-Man photos, and the Captain America: The First Avenger score. But what's that you say? Still not enough superhero movie news for you? It's lucky, then, that we've got a few more tidbits for you to chew on, from The Avengers, The Dark Knight Rises, and the Powers pilot. Check 'em out after the jump.
All the features are mine, just really big. I got to see the maquette of the Hulk yesterday in full scope, and it's awesome.
Then, last night at the Oscars, Ruffalo revealed an intriguing detail about the Avengers plot — sorta. Ruffalo told MTV's Josh Horowitz:
There's some great Bruce Banner stuff, kind of a slant on him that we haven't seen before. He's introduced in a really great way.
When Horowitz followed up by speculating on the possibility of the Hulk acting as a "pseudo bad guy," Ruffalo gave a very telling eyebrow raise. "Only time will tell," Ruffalo responded. Watch the video below and see what you think.
And last but not least in Ruffalo Hulk news, Bleeding Cool noticed an interesting use of the past tense by Ruffalo, in a quote from The Telegraph. Ruffalo described the motion capture process as follows:
There's this algorithm that digitally puts 2,000lbs of muscle onto my body. It's weird. I wear this skinny little suit with reflective balls all over it. When we shot the stuff, I was actually standing in a warehouse with a couple of cardboard boxes and some foam mats. But when I looked at the monitor there I was as the Hulk in this landscape with cars and boulders and hills.
Not "shoot the stuff," but "shot the stuff." It does seem like an indication that Ruffalo's done with the Hulk part of his shooting, at least for the present.
Meanwhile, over on the DC side, Anne Hathaway let a very minor but telling detail slip. During an interview with Oprah, she referred to her role in The Dark Knight Rises as Catwoman for the very first time. In the press release announcing her role, Warner Bros. had referred to the character only as Selina Kyle, leading fans to wonder whether her Catwoman alter ego would be making an appearance at all. See the video for yourself below.
Finally: We reported yesterday that FX had optioned a pilot for a television show based on Brian Michael Bendis' comic series Powers, and that casting would begin immediately. As it turns out, at least one actress has already thrown her hat into the ring. Battlestar Galactica star Katee Sackhoff tweeted that she had met about the Deena Pilgrim role last year — and that she's eager to get on it now that the pilot's actually been greenlit:
@Taragel already met on #powers last year! I love it! I've just been waiting for a green light to go after it!
Deena Pilgrim is the partner of protagonist Christian Walker, a superhero-turned-detective, and she is one kick-ass lady. Although Sackhoff's involvement is totally up in the air at this point, I'd be very happy to see her get on board. Sackhoff's already proved she could do smart and tough as Battlestar Galactica's Starbuck, so Deena Pilgrim sounds right up her alley.