Will Smith Attached To 'Joe'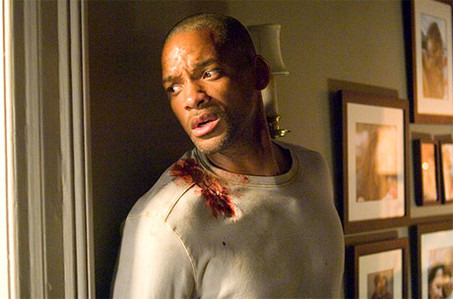 For a guy who is often called the biggest movie star in the world, Will Smith has spent the last couple years in relative quiet. In 2008 he starred in Hancock and Seven Pounds, but he hasn't shot a film since. He's got part of Men in Black III in the can, but he seems more occupied with attaching himself to a long string of projects (The Legend of Cain, Hood, Flowers for Algernon, Suspicion, The City that Sailed, Colossus: The Forbin Project, and more) and producing films for his children Jaden and Willow.
Now he's attached to one more film: Joe, written by The Fighter co-writers Paul Tamasy and Eric Johnson, and based on the Biblical story of Job.
Collider reports that Joe is in the hands of Sony, and that Will Smith's Overbrook Entertainment is producing, with the actor/producer attached to star. Reportedly, The Fighter director David O. Russell, one of the few people with more recent attached projects than Will Smith, is high on the studio's list to direct.
The Movie B.S. podcast has an interview with Paul Tamasy, who says of Joe:
We sold a project to Sony with Overbrook and Will Smith.  It's a modern version of the story of Job. [Will Smith will] be playing "Joe."  The movie's called Joe.  It's about a man [who is living] the American dream.  He's got the nice house, white picket fence, great kids, great wife, nice cars.  God and the devil get together every thousand years to bet on a man's life, and the fate of the world is at stake. What all of us get hit with in a lifetime, this man gets hit with in one week.  And it's about whether or not he can still pick himself up from that and survive it.  It's a dramedy.  At it's heart, it's a comedy — but it's got, obviously, a real dramatic core to it.
The old 'God and the devil make a bet on the soul of man' thing has been done to death in films, TV and country songs, but there is a reason: it's a story with universal appeal. 'A real dramatic core' would seem to be an understatement when talking about something based on the story of Job, but this script sounds like it has a different angle. Rather than being about man's relationship to God (the whole point of the trials of Job being that Satan wanted Job to curse God) this sounds like it is about the resilience and spirit of Man. Related, sure, but still not as serious and spiritually-focused as the original tale.