Quentin Tarantino's Next Is A Western With Christoph Waltz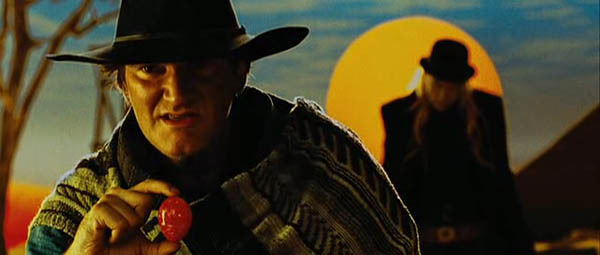 Last week, in addition to finding that the full cut of Kill Bill complete with new anime sequence (aka Kill Bill: The Whole Bloody Affair) would play the New Beverly Cinema in March, there were whisperings that Quentin Tarantino is busy assembling his new film. At the time we didn't have any real word about what the movie would be, but now Italian actor and one-time spaghetti western star Franco Nero says that he is involved in a western with Quentin Tarantino. Further reports say that the director's next film is definitely a western, and that it will star breakout Inglourious Basterds star Christoph Waltz.
Franco Nero told Movieplayer (via The Playlist),
My next project will be a western, but not in Italy. Here it is hard work. The film will be called The Angel, The Bad and The Wise* and is a tribute to Sergio Leone. It 's a movie that contains humor, lots of action, but also a great plot.
We have already been signed by a dozen people who will be part of project. Among the filmmakers involved include Quentin Tarantino, Keith Carradine, Treat Williams, fifteen people in all. Americans who want to do this movie and so we are trying to produce it outside of Italy.
(Those quotes are translated, so perhaps aren't exact.)
But there's more. At first we wondered if this might be something in which Quentin Tarantino might appear, aka Takashi Miike's film Sukiyaki Western Django, rather than the film alluded to by Jeremy Smith of AICN last week when he said "Tarantino's next project is quietly coming together behind the scenes. Hope to have something to report soon. I predict most people will be very happy with it."
But Jeremy updated today with several points, chief among them a firm statement that Quentin Tarantino is making a spaghetti western and that it will feature Christoph Waltz. He can't confirm the involvement of Franco Nero or any of the other actors mentioned in the quotes above. Finally, he says that title (The Angel, the Bad and the Wise) is totally wrong, and that even when you account for possible Google Translate mangling, the title "isn't even close."
No one has plot details yet, but the shoot is reportedly set for later this year in (contrary to Franco Nero's statement) Italy and Spain. More on this as we get it.