Tarantino's 'Kill Bill: The Whole Bloody Affair' Plays LA In March; Director's Next Film Being Prepped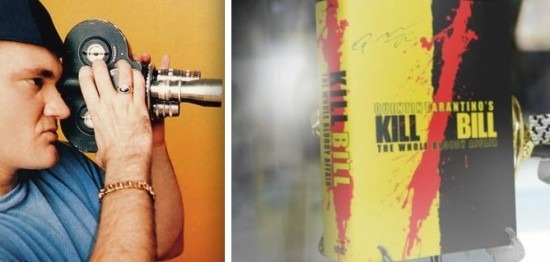 We may receive a commission on purchases made from links.
Ever since the opening of the first part of Quentin Tarantino's two-film opus Kill Bill, there have been rumblings about a domestic release of the full unified version of the film that ended up playing Cannes in 2006. The film would be both halves of Kill Bill plus new animation expanding the backstory of O-Ren Ishii, and some other bits and changes to Part I that were seen in the Japanese release, but not in the US and Europe. Since 2009, the director has been talking about releasing Kill Bill: The Whole Bloody Affair, as it is called, on DVD. It has been shown here and there, and a 'coming soon' placeholder page has been on Amazon for years.
Now Quentin Tarantino has programmed Kill Bill: The Whole Bloody Affair for a full week at the New Beverly Cinema in Los Angeles, as part of his takeover of the theater's programming for all of March and some of April. Does this mean the DVD release is finally happening?
Let's go back to what the director said in 2009:
We've actually added some things to it. We did a whole little chapter that I wrote and designed for the animated sequence, that we never did, because we figured, back when it was gonna be one big movie, it was going to be too long, so we didn't do it. So when we were talking about re-releasing it, they asked is there anything you can put in, and I said no I put everything in there, but... there's one sequence that we wouldn't even have to shoot! So we got together with Production IG and did it, and it's really cool. So it's this little seven minute sequence, it's really cool, it's in the O-Ren chapter.
The production and release of Inglourious Basterds put The Whole Bloody Affair on the back burner, but now it seems to be back. AICN points out the New Beverly schedule, on which the long cut of Kill Bill is programmed from March 27 to April 2.
In the AICN talkbacks, AICN writer Jeremy Smith makes a couple of other points. For one:
Lionsgate now has DVD and streaming rights to many of Miramax's old titles, so this release of The Whole Bloody Affair could be the precursor to a long-awaited full DVD or (better) Blu-ray release.
He also says "Tarantino's next project is quietly coming together behind the scenes. Hope to have something to report soon. I predict most people will be very happy with it." That's something to look forward to, and I'm as curious as I imagine many of you are to see who he chooses to edit the film, with his long-time editor Sally Menke tragically passing last year.