First Look: 'Toy Story Hawaiian Vacation'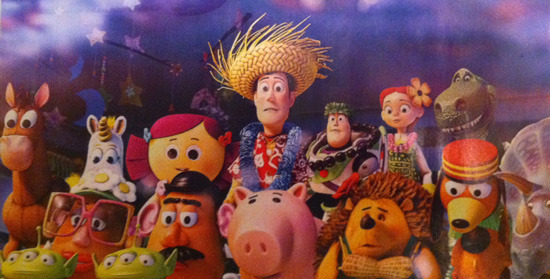 While Toy Story 3 may have concluded the full-length feature story of the Toy Story characters, Pixar is continuing the series with at least two shorts that hit later this year. The first, Toy Story Hawaiian Vacation, arrives with Cars 2 on June 24, while the second (title not yet revealed) will run with The Muppets in December.
Here are the first images from Hawaiian Vacation, which was directed by Gary Rydstrom. The second is after the break.
The images were scanned from Entertainment Weekly by The Playlist. In the magazine Mr. Rysdstrom said,
Woody becomes kind of like what's-his-name on "Love Boat"...Captain Stubing!... As toys who get played with all the time, they have a pretty good imagination, when it's time for a little playacting, they're good at it.
The plot we'd previously heard is:
Bonnie is off to Hawaii, and Barbie and Ken are excited to go along on their first tropical vacation! But when they're accidentally left behind, it's up to Buzz, Woody, and the rest of the toys to create a Hawaiian paradise right in Bonnie's room.