'The King's Speech' Director Tom Hooper Was Offered 'Iron Man 3,' Could Direct 'Les Miserables'?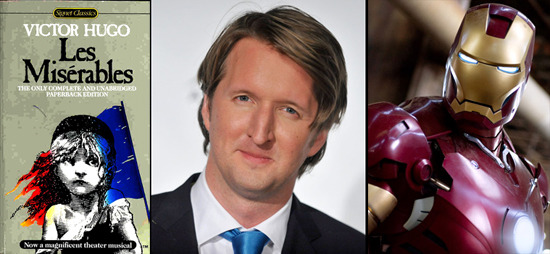 The King's Speech director Tom Hooper didn't come out of nowhere. He made The Damned United and directed all of the John Adams mini-series starring Paul Giamatti. But his race to the top of the possible Best Director heap has been nothing short of meteoric.
So what will he do next? We just heard that one possibility is that he could reunite with his The King's Speech writer David Seidler and producer Gareth Unwin for The Lady Who Went Too Far, casually described as 'a female Lawrence of Arabia.' Another possible film is a new big-budget musical version of Les Miserables, according to the LA Times.
Working Title is developing the film, but we don't have any other info. The tale, of course, is classic, beginning life as a novel by Victor Hugo and becoming a massively successful and persistent stage musical in addition to a great many film and television versions in a wide variety of languages. Tom Hooper has been taking his time choosing a follow-up gig to The King's Speech, but Les Miserables is a project that has global recognition and a built-in audience. (Along with built-in expectations.) It would be a chance to work on a grand scale, if that sort of thing is appealing.
The LA Times also says that the offer to direct Iron Man 3 went to Tom Hooper before Shane Black was hired. I don't honestly know how to picture the hypothetical results had he accepted, but it's an interesting idea. (Marvel chases talent, especially award-winning talent.)
(A note about The Lady Who Went Too Far: making two potential 'female Lawrence of Arabia' films given that Werner Herzog is also prepping Queen of the Desert, which is about a woman who was actually a contemporary and occasional colleague of the real Lawrence.)