Chris Columbus Producing Remake Of Korean Comedy 'Hello Ghost'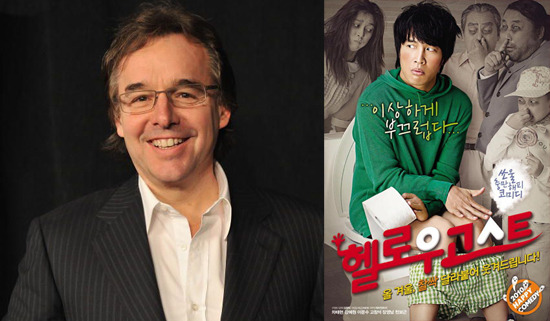 Chris Columbus broke into the big time with a trio of fan-favorite '80s genre/comedy scripts: Gremlins, The Goonies and The Adventures of Young Sherlock Holmes, and cemented himself as a mainstream hitmaker by directing Home Alone. In the years since, his directorial career turned into the equivalent of managing a Crate & Barrel: it makes money and your mom probably loves it, but it isn't likely to make anyone sit up and take notice. His best moments were probably the early Harry Potter casting decisions, while recent forays back into movies with teen appeal (I Love You Beth Cooper and Percy Jackson and the Olympians) were met with shrugs.
What to make, then, of the decision to remake a goofy-looking Korean comedy with a supernatural bent? Chris Columbus has signed to produce a remake of Hello Ghost, in which a suicidal man is haunted by four ghosts who each want his help. Whether he will direct or not is unknown at this point.
The director said in a press release, via Deadline,
After watching Hello Ghost I was immediately struck by the film's ability to mix comedy, drama and complex emotional themes. Its strong universal storyline translates to any culture, and I'm looking forward to bringing a version of this wonderful story to the English-speaking audience.
I'm not sure about the complex emotional themes, although the synopsis of the original certainly makes it sound as if some of that content might be there:
A suicidal guy, Sang-Man, (Cha Tae Hyun) starts seeing ghosts after attempting suicide many times. An orphan and a loner, he's been alone all his life until his world is turned upside by four ghosts: a chain smoking cab driver, an alcoholic/pervert grandfather, a constantly crying woman and young kid with an insatiable sweet tooth. Learning from a psychic that he cannot get rid of these spirits until he fulfills their last desires, Sang-Man allows them to possess his body. While carrying out their individual wishes, Sang- Man discovers the pleasure of daily life and forgets about his own loneliness and depression.
But watch the following English-sutitled teaser and full trailer (no subs) for the original. You'll quickly get a sense for how broad the comedy was, and how it looks (for lack of a better phrase) really goddamned silly. I have no idea if the original is actually good, but there could be a good film in here.