Academy President Admits He's Not Going To Stop Banksy From Crashing The Oscars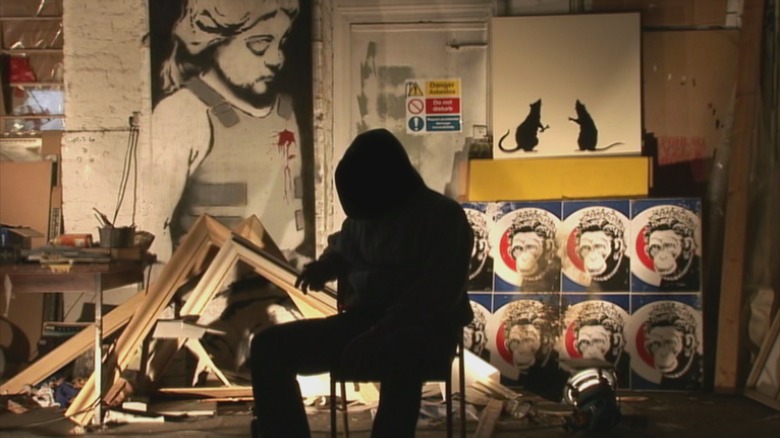 Ever since Banksy's Exit Through the Gift Shop was nominated for the Best Documentary Oscar, the question has been what would happen if he actually won. The internationally acclaimed street artist is almost as well known for his secret identity as he is for his actual art, and two weeks ago it was revealed that his plan had been to show up at the ceremony in a monkey mask — only to have the Academy shoot that idea down. Or not.  A recent quote from Tom Sherak that suggests that the mask might still happen. Read more details after the jump.
The fun but disquieting scenario is if that film wins and five guys in monkey masks come to the stage all saying, 'I'm Banksy!' Who the hell do we give it to? [The Academy] needs to have a procedure in place.
In the same piece, we reported that Academy president Tom Sherak had said that "it would not be dignified for the Academy to have somebody come up wearing a monkey's head," and that he and Exit Through the Gift Shop producer Jaimie D'Cruz had agreed that Banksy would instead designate a representatitve to accept the award for him.
Yesterday, however, The Hollywood Reporter quoted Sherak singing a slightly different tune:
We said if he wants to come up of course he should come up. No, we'd rather he not wear a mask. There's no rule. We asked him to respect the night and respect the honor... Does that mean he couldn't run on? Sure he could. Listen, he'd run right over me. I'm not gonna stand up to stop him. Nobody is, that's not what we do. Would this be fun? I guess to some people. I guess it was a lotta fun when Blake Edwards ran through with a speeding wheelchair, or when the streaker came out. How about the guy who came with a stuffed penguin? Excuse me, did you ever see the Academy get mad about that? It's spontaneous! I'm looking at what Bansky's done, and that's fun. Maybe not if I'm CBS and he's defacing my billboard. But I get it. It's a cultural thing.
OK, so it's not exactly an outright approval, but it definitely represents a change in tone from Sherak's earlier quote. It's not clear whether Sherak's softened position represents a (small) change of heart, or whether he never intended to stop Banksy in the first place.
My guess? Sherak's come to realize that the potential appearance of a mysterious, monkey-masked nominee is just the kind of drama that gets people to tune in and see what happens. Our earlier piece on Banksy at the Oscars quoted Entertainment Weekly writer Owen Gleiberman putting it quite aptly: "[A] little dose of Banksy is exactly what Hollywood, and the Academy Awards, need. It's just what the doctor ordered to wake up a notoriously too-staid ceremony." Besides, as an anonymous Oscar campaign advisor pointed out to The Hollywood Reporter, masks at the Awards aren't exactly uncommon: "Half the women over 40 in Hollywood are wearing masks."
Still, The Hollywood Reporter speculates that it's more likely that Banksy would have someone designated to accept his reward, as is done when a winner dies — a disappointing option, but probably the most reasonable one.