'Bad Teacher' Red-Band Trailer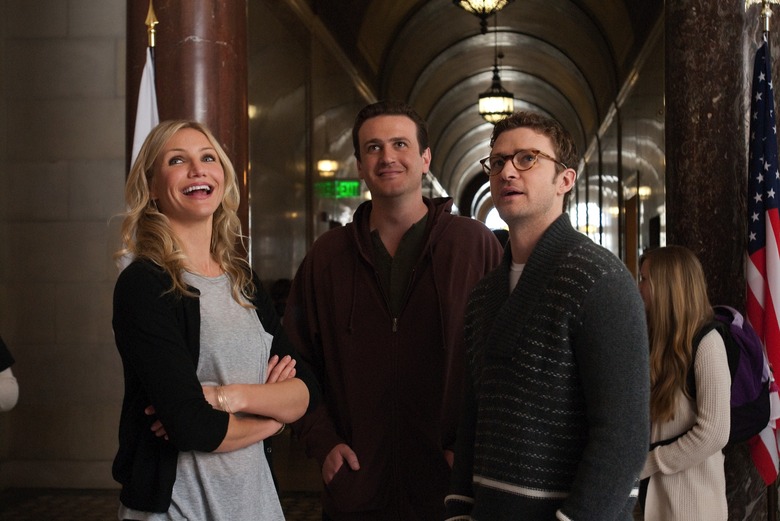 Ah, spring. The time when young peoples' fancy turns to what they've been thinking about all winter. It's a time for red-band trailers promoting sex-themed comedies, and for those trailers to feature snippets of music by those sexy scalliwags, the Eagles of Death Metal.
In this case, the movie is Jake Kasdan's Bad Teacher, the song is 'Solid Gold,' and the content is all about Cameron Diaz proving that she's not a comedic stick in the mud. Or, at least, that she can hang with the mean kids. Check out the trailer after the break.
We've known that Bad Teacher, from writers Gene Stupnitsky and Lee Eisenberg (Year One, Ghostbusters III) is about the competition between the woman 'who just doesn't give an F,' aka Cameron Diaz, and a straight-arrow played by Lucy Punch, over the new guy in school: Justin Timberlake. Jason Segel is in the mix, too, as a gym teacher who has the hots for Cameron Diaz and, as the trailer shows, gets shot down. At least at the beginning. JT is in serious nerd mode,  Phyllis Smith (The Office) looks like the essential straight (wo)man of the show, and there might be just enough dirty jokes to get us past the fact that everyone probably learns an important lesson or two by the end.
And a question: how are they going to sell this movie without all the dirty stuff?
The bad news is this is a MySpace trailer embed, so you'll likely need a MySpace account to see the content for now.
Here's the official synopsis:
Some teachers just don't give an F. For example, there's Elizabeth (Cameron Diaz).  She's foul-mouthed, ruthless, and inappropriate.  She drinks, she gets high, and she can't wait to marry her meal ticket and get out of her bogus day job.  When she's dumped by her fiancé, she sets her plan in motion to win over a rich, handsome substitute (Justin Timberlake) – competing for his affections with an overly energetic colleague, Amy (Lucy Punch).  When Elizabeth also finds herself fighting off the advances of a sarcastic, irreverent gym teacher (Jason Segel), the consequences of her wild and outrageous schemes give her students, her coworkers, and even herself an education like no other.