Gerard Butler Will Be 'Playing The Field' With Uma Thurman And Jessica Biel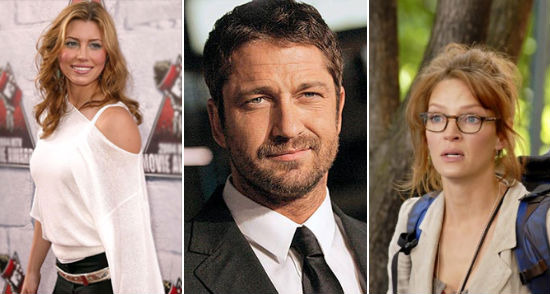 For all you Gerard Butler fans hoping the star of 300 and RocknRolla had grown out of his Ugly Truth/Bounty Hunter romantic rut, we're very sorry. He's just signed on to star in Playing the Field, a "soccer comedy," along with Uma Thurman and Jessica Biel. Butler will play a former soccer pro who agrees to coach his son's team and finds himself fending off gorgeous soccer moms. Biel will play his ex-wife who is getting re-married and Thurman will be one of the soccer moms. Gabriele Muccino (The Pursuit of Happyness, Seven Pounds) will direct a script by Robbie Fox (So I Married An Axe Murdered, In the Army Now). Read more after the jump.
Variety broke the news of this film, which is being developed by Nu Image/Millennium Films. Butler will also produce along with Jonathan Mostow and others.
Though I joked about Butler's recent penchant toward romantic comedy, if you look at his body of work as a whole, he's actually doing a pretty good job of balancing those movies with more male oriented films. For example, after The Ugly Truth and The Bounty Hunter, he did Law Abiding Citizen and Gamer - which were terrible, but certainly male oriented. And up next he'll sort of split the difference with Machine Gun Preacher, the tale of a ex-con turned preacher who becomes an activist in Africa and Coriolanus, a modern retelling of a Shakespeare play directed by Ralph Fiennes. Not to mention a slew of other movies he's attached to.
Back to Playing the Field, the star seems perfectly cast as a former soccer pro thanks to his Scottish roots and Biel and Thurman are both talented and beautiful women. I'm sure they'll all do quite well. The wild cards are Muccino, whose last American film was the abysmal Seven Pounds and Fox, who hasn't written a movie is almost two decades. I guess we'll see how it all turns out.
Are you a fan of this scenario coupled with these actors? And were you as disappointed as I was when you realized this "soccer comedy" has nothing in common with Ladybugs or The Big Green except soccer?