Two New Clips From 'Battle: Los Angeles' Exhibit Scope And Tension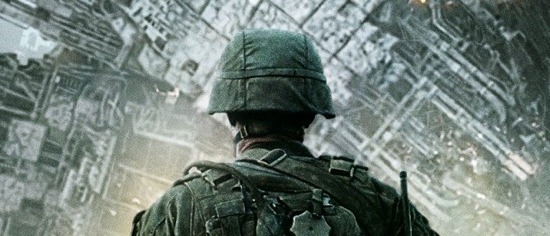 At 2010 San Diego Comic-Con, the world got their first glimpse of Jonathan Liebesman's Battle: Los Angeles and I was far from impressed. The footage looked slick, but it felt more like a war film than the epic alien invasion movie I was yearning for. Of course, the film was 8 months away at the time and the visual scope was still being developed. Since then, with each and every clip, trailer or commercial that's been released, my anticipation and expectations have grown. It's obvious now that Liebesman has blended small war movie characters with huge alien action in a way that has endless potential. Battle: Los Angeles is just under three weeks away and before we find out if it delivers on its promise, we can watch a few short clips from the film that speak to its tension and humanity.
The first clip, courtesy of IGN, is from the beginning of the film and shows some of the news coverage talking about the importance of what we're about to see. It's just over 30 seconds.
This second clip, courtesy of Yahoo, is from during the invasion and feels very much like Black Hawk Down. Plus, it also looks like they're fighting in the backyard of my first Los Angeles apartment, which is nice. It runs 55 seconds.
Those clips, the awesome marketing and the fact that Liebesman got a huge franchise film like Wrath of the Titans before this movie was even released all point to Battle: Los Angeles being something special. Basically the opposite of what Skyline was.
Are you expecting Battle: Los Angeles, with its March release date, to be up to the of the quality of a 300 or The Matrix? And where do you think it'll rank with other beloved alien invasion movies?