Kiefer Sutherland Confirmed To Star In Tim Kring Pilot 'Touch;' Says '24' Movie Still Happening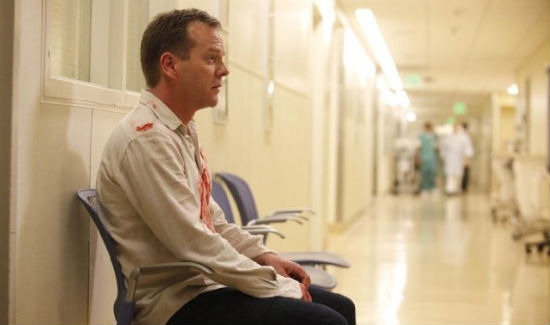 When Kiefer Sutherland finishes his current Broadway obligation, he's coming back to TV. The former star of 24 was in talks last week to star in Tim Kring's (Heroes) latest pilot called, Touch, for the Fox network and now he's officially signed on. Filming will begin this summer. The show is about a man whose mute, autistic son can see the future. After that, according to quotes on national television, Sutherland is still insistent that a 24 movie will happen. Read more after the jump.
Deadline broke the news of Sutherland's commitment which will begin in late May, early June. That means it will miss the upfronts and, at earliest, could be a mid-season replacement. That's if it gets picked up, of course.
For more info on Touch, what Sutherland has been up to recently – including his new movie, online show, Broadway show That Championship Season and more, check out our previous article. We covered it all and not much has changed.
But if you clicked through to here, you really want to know about the 24 movie and here's the latest, thanks to Coming Soon.
Sutherland is doing the rounds promoting That Championship Season and, on Good Morning America, said the following:
Yes, there will be a 24 movie.
Later, he drove down the street to Live with Regis and Kelly and once again confirmed the statement:
We hopefully will start next January and I think Tony Scott is one of the directors that has expressed great interest in doing it and he would be fantastic, so I'm very excited about that.
While it sounds like he's pretty positive about it, it still sounds like nothing is set. In fact, this is pretty much the exact same thing he said last month with the addition of the Tony Scott info, which had been rumored as well.
24 fans should remain cautiously optimistic. If Sutherland is in, chances are they'll make it happen, but there are certainly a whole bunch of hoops that still need to be jumped through.