Why You Should Care That A Director's Fan Cut Of 'Justin Bieber: Never Say Never' Opens February 25th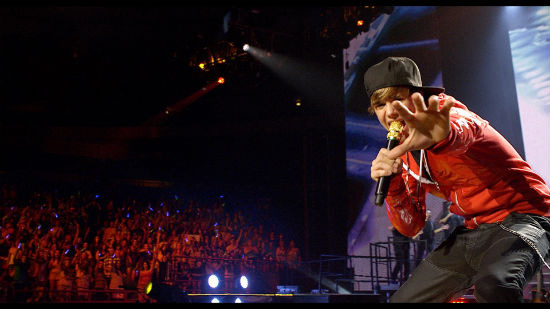 Who wants more Justin Bieber? How about 40 minutes more? Well, you are in luck. After some deliberating, Paramount has decided to release a 40-minute longer Director's Fan Cut of the hit concert documentary Justin Bieber: Never Say Never this Friday, February 25 only in 3D. Tickets go on sale Tuesday February 22 at 8 p.m. EST. Set those Google Calendars.
In all seriousness, I saw this film over the weekend and...it's actually pretty good. Way better than Unknown or I Am Number Four. Read the full press release for the re-release and a few reasons why you should care about this news after the break.
There are several reasons why you, as a film fan, should care about this news. First, we'll start technical. As Badass Digest points out, this re-release is significant because it highlights one of the promising things about digital distribution of a movie. In order to get this new version of Never Say Never into theaters on the 3rd weekend of release, the film is only being released to Digital 3D theaters. There's no time to make 35mm prints. Let's think about that. Without 35mm prints, studios save money, movies can be changed (for better or worse) while the film is still in theaters, and the picture and sound are always perfect. Plus filmmakers who complain about having the film torn from their hands can work on their movie days to weeks longer simply because making 35mm prints takes so long. With that out of the equation, Christopher Nolan can edit The Dark Knight Rises right up to the Monday or Tuesday before release, if he should choose to do so.
So, that's one reason you should care. The other reasons you should care about Justin Bieber: Never Say Never being re-released, like I said above, all center on the fact that the film is actually pretty good. I understand the teen pop singer has the stigma of being just for young girls. Get past that. Grow up. If you can't, that's fine, but you have to forget about it to understand my points. Bieber's rise to stardom – grassroots and almost strictly through the Internet – is a fascinating, significant and timely story. The film is almost more about our current culture than The Social Network. It's nowhere near that level of excellence, obviously, but in a conversation about movies that speak to life in 2011, Never Say Never, merits a mention.
Plus, director Jon Chu focuses the film less on Bieber than you'd think. The really great stuff in the movie is about everyone around him, not Bieber himself. We learn so much about his grandparents, managers, security guards, voice coach and – most importantly – his fans, that it shows the singer in a whole other light. You actually feel happy for the successes he's having because you see how it affects everyone around him, you included. Most real Bieber fans are only going to scream at the kid's haircut and how "cute" he is, but what makes Never Say Never actually stand out as a film is that it both contextualizes him as a person and a unique popular culture enigma.
Granted, to get all of that out of the movie you have to endure (a lot of) Bieber's music, (a lot of) screaming fans, and things like that. But it's hard to complain when you're watching a genuine, inspiration and emotional rags to riches story. It's the stuff Hollywood dreams of.
That's my pitch. I'm not sure if I'm going to rush out to buy my tickets to rewatch Never Say Never, especially with so many big movies coming out in the next few weeks, but it's something I'll consider. Here's the Paramount press release:
HOLLYWOOD, CA (February 21, 2011) – Paramount's Insurge Pictures today announced plans to release "JUSTIN BIEBER: NEVER SAY NEVER" DIRECTOR'S FAN CUT for an exclusive one-week run beginning Friday, February 25th in 3D theaters across the U.S. and Canada. In an unprecedented move, Paramount will release a revamped version of the star's movie three-weekends following its initial release. Tickets for the limited engagement go on-sale Tuesday, February 22nd at 5pm PST/8pm EST.As he began the editing process several months ago, and upon realizing the significant amount of great footage he had obtained, director Jon M. Chu began to develop with the studio an idea for a second, and more fan centric, edition of the movie. While promoting the film's initial release, he spent dozens of hours on Twitter and Facebook engaging with fans to learn more about what they were most anxious to see. Some scenes contained in the new cut include: more of Justin's friends and hometown life, new songs and performances, and special footage shot at fan premiere's across the country."I realized I had an embarrassment of riches when I was I in the cutting room," said Chu. "This cut allows me to retain some of the best scenes from the original movie, while incorporating previously unseen footage and new material I shot during our extensive promotional tour on behalf of the movie. Justin's dedication to his fan base is unwavering and I was inspired as a filmmaker to attempt to provide them a unique experience that showed even more of his world.""JUSTIN BIEBER: NEVER SAY NEVER," which opened nationwide on February 11th to critical acclaim, earned $30 million in its initial weekend and earned an A+ Cinemascore from women (an A overall).