'Printing Banksy' – A Short Documentary On Limited Edition Prints From Banksy's 2006 Los Angeles Show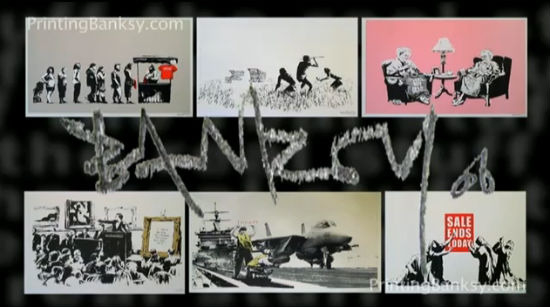 Two things we obviously love on /Film are limited edition art prints and Banksy. Banksy has been in the news lately because his directorial debut, Exit Through the Gift Shop, was nominated for an Oscar and seeming everyday we run Cool Stuff posters of limited edition screenprints from Mondo, Spoke Art, Tommy Good and a ton of other vendors. Film and print art just seem to go together well.
A new short documentary called Printing Banksy: Modern Multiples Creates the LA Prints proves that point. This 15 minute film puts a new spin on Banksy's 2006 Los Angeles art show Barely Legal, which is a huge part of Exit Through the Gift Shop by focusing on the prints that came out of it. Filmmakers Brad Beyer and Robert Dragan were lucky enough to speak to the man responsible for making Banksy's limited edition prints for that show and story behind them is fascinating. You can check out the film after the break.
On the film's official website, the following explanation is given.
A week after Banksy's Los Angeles Barely Legal show in 2006, we met with Richard Duardo of Modern Multiples to acquire a set of the LA prints.  We filmed an interview with him to document the occasion and to capture his tales of what it was like to work with street art's brilliant mystery man.
After watching the raw footage a few times, we decided that it was an intriguing story and created a short documentary.  We wrapped the project in early 2007 and submitted it to the Sundance, Tribeca, and San Diego Film Festivals later that year.  Overlooked and with our submission fee budget depleted, we really never knew what to do with it.
So now we're taking our cues from Banksy's Oscar nominated documentary film, EXIT THROUGH THE GIFT SHOP, and we're just 'getting it out there'.
And, here's the film.
As someone who owns upwards of 60 screenprints and now puts "Official Banksy Print" on top of his "Must Own Before Death List" (and tried unsuccessfully to purchase his last print, Choose Your Weapon) this film was really interesting, especially to hear about the collaboration with Banksy, the secretive nature, the detail and time that was spent on screenprinting and more. What do you think?