First Look: Joe Carnahan's 'The Grey' Starring Liam Neeson
As director Joe Carnahan thought about his next movie after the balls-to-the-wall action adaptation The A-Team, he decided to go into a deep freeze. His follow-up frozen film is called The Grey and it stars Liam Neeson, Dallas Roberts, James Badge Dale, Dermot Mulroney, Frank Grillo, Nonso Anozie, and Joe Anderson as a group of oil-rig workers who crash and find themselves stranded on the Alaskan tundra in the presence of a group of deadly wolves. Think Frozen and Jaws sprinkled with Armageddon.
Last we heard, The Grey had gotten a green light and now we've got our first glimpse at the film. Check it out after the jump.
The photo came from the latest issue of Entertainment Weekly and the scan is from Dread Central.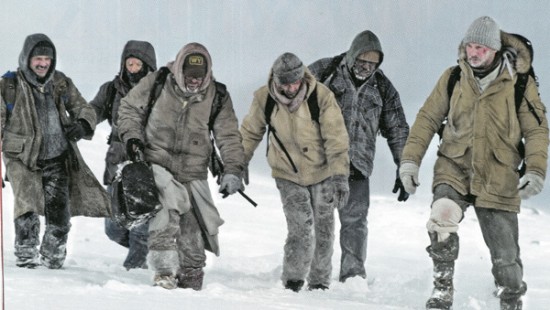 Click to get a slightly bigger version. Looks pretty cool, no?
The caption is as follows:
Liam Neeson goes Grey: The actor reunites with his A-Team director, Joe Carnahan, for a 2012 project that promises fewer explosions but more scares. The Grey, produced by Ridley and Tony Scott, is a survival film about oilmen (from right: Neeson, Nonso Anozie, Joe Anderson, Dermot Mulroney, Dallas Roberts, and Frank Grillo) stranded in Alaska and being hunted by wolves. "I'm a big dog guy," says Carnahan. "I know that if you look at a wolf for too long, it's just a [cuddly] malamute. So we're doing the Jaws approach. They're like the slasher in a slasher movie."
When the film was finally set to go, Carnahan spoke to Deadline and had this to say about the movie and the all important four-legged antagonists:
The wolves have a territorial range of 300 miles, and they will run you out if you cross that. If you're within 30 miles of their den as is the case here, they will try to kill you. It's simple arithmetic, but it creates an opportunity for one of those man vs. nature movies I love like Deliverance and Touching The Void.
Are you liking the look of this film? Are you excited to see Carnahan do suspense instead of straight action?