Robert Rodriguez's Nike Short Film 'The Black Mamba'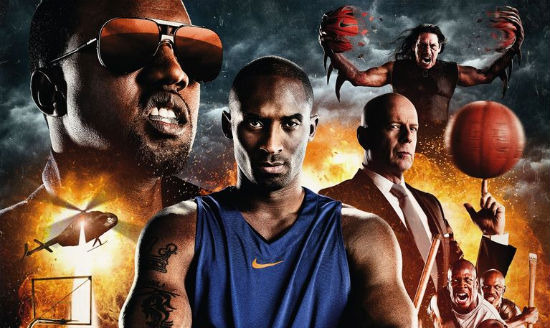 NBA All Star Weekend has just concluded and besides the All Star Game, 3-Point Shootout and Slam Dunk Contest, one of the biggest happenings in the world of the basketball was a new film by Robert Rodriguez. The director of Sin City and Spy Kids teamed up with Nike and Los Angeles Lakers star Kobe Bryant, along with Bruce Willis, Danny Trejo and Kanye West, for a basketball-influenced grindhouse short action film called The Black Mamba. We showed you the poster and a few trailers for the 6 minute movie earlier this month and now, we've got the full film embedded after the jump.
Don't forget, this is a Nike sponsored movie so the shoe shots are gratuitous. But, as Rodriguez says in the film, "Product placement gives us a bigger budget. Bigger budget? Bigger explosions."
Fun, right? But not as fun as I thought it was going to be. I think having Rodriguez as one of the main parts of the film and making the whole thing a pitch/fantasy is the only thing that makes it work. The cameo appearances are funny and the idea of a super-villain collecting shoes is kind of interesting, but overall the action was stale and the basketball itself was boring. Seeing a new film by Rodriguez is cool, and his visual style within the film is hugely apparent, but, for my money, The Black Mamba can't hold a candle to the real highlight of the NBA All Star Weekend: The Dunk Contest. Allow me to quickly digress in order to show you all a cool video that has very little to do with movies.
At this year's dunk contest the best dunks, by far, were by the runner up JaVale McGee of the Washington Wizards who not only dunked on two hoops simultaneously, he dunked three balls in one dunk. It was insane. However, because the event was in Los Angeles, the victory went to Blake Griffin (of the Los Angeles Clippers) for the dunk which was all about pageantry and showmanship. It also has a not-so-subtle reference to Space Jam. So, as a juxtaposition to The Black Mamba, I deem it worthy of you checking out.
Which do you think was cooler? Do you wish the big NBA stars would do more promotion or stick to things like the dunk contest?