'Thor' Trailer #2

Marvel Studios and Paramount Pictures have released a second trailer for Thor. We've seen one trailer which was built from the same footage run last year at Comic Con, and then a Super Bowl commercial which rehashed that first trailer in a brief 30 seconds. This trailer is centered as much around Natalie Portman (she's an Oscar nominee, remember) as it is around Chris Hemsworth, and even opens up with a pretty good joke.
Check out this new look at the film after the break.
Yahoo has the trailer in HD.
There are more shots — rather epic shots — of Asgard and battle scenes against both the Frost Giants and Destroyer. Loki gets a couple of good close-ups and Kat Dennings gets a lot more time, too.
There are some great shots in here, but I love this one, which shows the Warriors Three looking like they just got their asses handed to them by Destroyer. Group hug!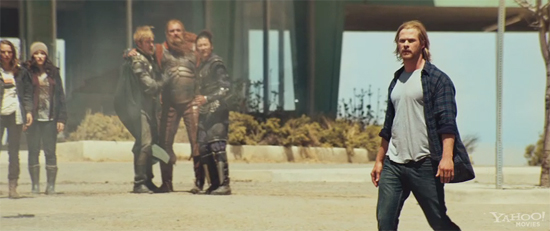 Here's all the important info on Thor:
Paramount Pictures and Marvel Entertainment present the epic adventure, "Thor," which spans the Marvel Universe from present day Earth to the realm of Asgard. At the center of the story is the mighty Thor (Chris Hemsworth), a powerful but arrogant warrior whose reckless actions reignite an ancient war. Thor is cast down to Earth by his father Odin (Anthony Hopkins) and is forced to live among humans. A beautiful, young scientist, Jane Foster (Natalie Portman), has a profound effect on Thor, as she ultimately becomes his first love. It's while here on Earth that Thor learns what it takes to be a true hero when the most dangerous villain of his world sends the darkest forces of Asgard to invade Earth.
Cast: Chris Hemsworth, Natalie Portman, Tom Hiddleston, Anthony Hopkins, Rene Russo, Stellan Skarsgard, Jaimie Alexander, Kat Dennings, Ray Stevenson, Josh Dallas, Tadanobu Asano, Idris Elba, Clark Gregg, Colm Feore
Directed by: Kenneth Branagh
Release: May 6th, 2011