Redbox To Start Online Streaming Service To Compete With Netflix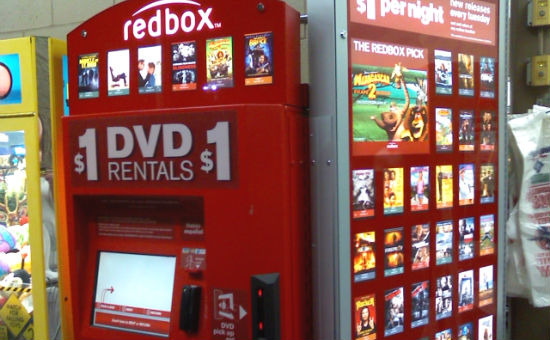 As traditional video rental stores slowly go the way of the Dodo, current industry leaders are looking for ways to stay ahead of the curve. Leading the pack is Netflix, which allows customers to rent DVDs through the mail and stream select titles online. One of their main competitors, Redbox, offers customers the ability to rent DVDs from red kiosks at popular locations for $1 per day and that's all. Because of those limitations, Redbox has regularly found themselves well-behind Netflix. They're hoping to change that soon though. Redbox just announced they'll soon be creating a subscription based service that includes both the physical DVD rentals as well as online streaming content. Would you like to know more?
The Los Angeles Times broke the news thanks to a meeting with Redbox President Mitch Lowe. And while they didn't announce if the plan was to partner with one of the other major online streaming providers, such as Amazon or Hulu, rumor has it that might be what happens.
Redbox's revenues were down last quarter, largely because three major studios have been holding back their new releases for 28 days, plus Disney raised their wholesale prices. New releases are Redbox's bread and butter so when they lost some, it hurt. On the other hand, it wasn't that big a deal to Netflix, who has 20 million subscribers paying no matter what. By starting this service, Redbox now hopes to bring in new revenue and snag a few Netflix subscribers who maybe go to the grocery store or gas station more than the Netflix website.
While expanding their already successful business is certainly a smart move for Redbox, one has to wonder if it's too little too late. Netflix has seemingly cornered the home video rental market and while Redbox is a great service, with this move their following, not innovating. The $1, rent anywhere innovation is what got Redbox where it is today.
Would you sign up for a Redbox subscription if it means both movies at the store and streaming online? Would you feel more comfortable if that content was partnered with Amazon or Hulu?