Scoot McNairy Cast In 'Cogan's Trade;' Considered For 'Prometheus' And 'Abraham Lincoln: Vampire Hunter'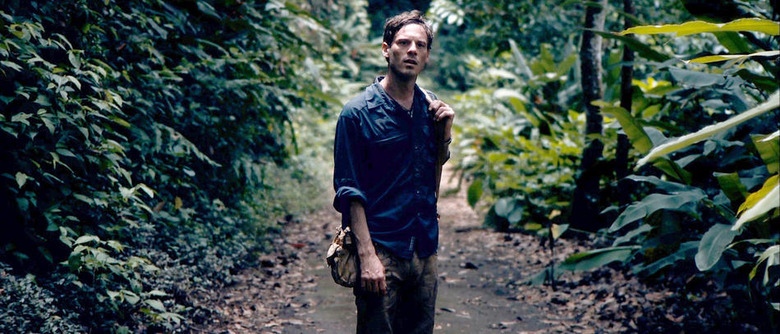 If you didn't see Monsters or In Search of a Midnight Kiss (or aren't a dedicated fan of Bones) your first thought here might be 'who the hell is Scoot McNairy?' The male lead from Gareth Edwards' low-budgets sleeper Monsters has got great people working on his side, because despite not having the most head-turning performance in that film he has become a hot commodity after years of playing sideline roles.
The first evidence of that status is grabbing a big role in Andrew Dominik's Cogan's Trade. He also has a couple other possible big jobs brewing. And, good news for fans of the film Animal Kingdom: Ben Mendelsohn is also in Cogan's Trade.
Variety says that the two actors will be " two young junkies who perpetrate a heist that takes place during a high-stakes poker game held under the protection of the mob." In other words they're either the heroes of the antagonists of the film, depending on your perspective. They are definitely the guys that Brad Pitt — a mob-sanctioned enforcer — is chasing, and that's all that matters when it comes to building a resume.
Here's what really concerns me: look at Scoot McNairy. Then look at Casey Affleck. Would you put both of these guys in the same movie? While Casey Affleck was the guy who gave us the first indication that this movie was happening at all, he has been absent from reliable cast confirmations as the names rolled in. So is Mr. McNairy playing the role that would have belonged to Mr. Affleck? We don't know for certain, but I'd bet the answer is yes.
Scoot McNairy also has other big possibilities on the horizon. Deadline and Variety both have him as a possible love interest for Noomi Rapace in Ridley Scott's Prometheus, and as a possible candidate for "a key role" in Timur Bekmambetov's Abraham Lincoln: Vampire Hunter. Quite a pack of job offers for a guy that one in a hundred members of the general moviegoing public — if that many — would be able to ID in a lineup. But if this is the way things are going, in two years, there's a good chance he'll be everywhere.