'Insidious' Trailer - A New Horror Thrill Ride From The Makers Of 'Saw' And 'Paranormal Activity'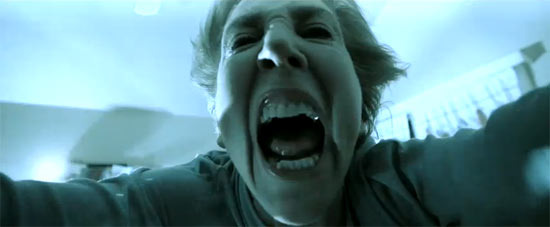 Director James Wan has been on a downward slope since Saw. His ultra low-budget horror debut may not have been a huge hit with critics, but as you have surely deduced from the six sequels it's spawned, the film performed like gangbusters with audiences. His two follow-up efforts, meanwhile, did not. Death Sentence performed miserably at the box office, and Dead Silence didn't fare much better. Critics hated both.
James Wan has two strikes against him now, and is in desperate need of a hit if he has any intention of reclaiming his past glory.
Good thing Wan has Insidious, a film he's been quoted as saying he wants to be "the Poltergeist for this generation". This time around, he's teamed up with Paranormal Activity creators Oren Peli, Jason Blum and Steven Schneider — a fact the trailer eagerly promotes, though obviously without acknowledging that they're only serving in a producer capacity — and reunited with Saw screenwriter Leigh Whannell. Its story revolves around a family looking to prevent evil spirits from trapping their comatose child in a realm called The Further. Patrick Wilson and Rose Byrne star, with Barbara Hershey in a supporting role. The film premiered at TIFF 2010 as one of its Midnight Madness selections, and generated great buzz. Check out the trailer after the break.
The trailer is filled with the typical ghostly imagery and shock scares that tend to encumber the surfeit of generic "haunting" movies these days, but the presence of Wilson and Byrne already has me putting this entry a notch above those. And to its credit, the trailer does maintain an effective sense of unease throughout due to its fretful, anxious atmosphere. That could just be the result of a good editor who knows how to put ticking, beating and screeching to good use, but the glowing response to the film has me hoping otherwise. The film's gotten exceptionally positive reviews from horror (Fangoria, FEARnet, Arrow in the Head) and non-horror (Hitfix, Twitch, First Showing) sites alike. Hell, even Variety dug it. From everything I've read, the movie sounds like a relentlessly entertaining haunted house ride. Whether the film is still capable of delivering that experience when stripped of its gung-ho "Midnight Madness" premiere (complete with a packed audience and filmmakers in attendance), I don't know.
What I can say for certain is this: That split-second shot of the red-and-black beasty gawking behind Wilson is all sorts of creepy.
Insidious releases in theaters on April 1, 2011.
Watch the trailer below, or peep it at Blastr.