'Spider-Man: Turn Off The Dark' Being Reworked By New Writer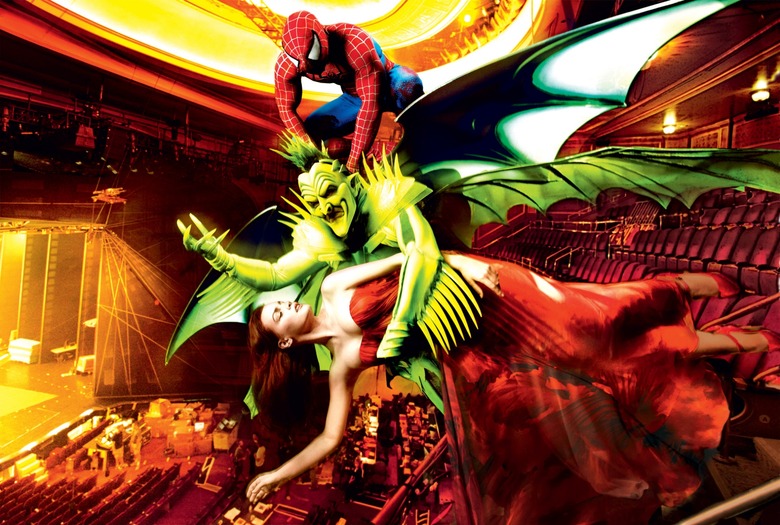 The Julie Taymor show Spider-Man: Turn Off the Dark is the most expensive Broadway production of all time, and one of the most troubled. It has been delayed multiple times, beset by injuries and subsequent investigations and union issues, and met with a scathing critical response. And yet, because reason rarely triumphs over curiosity, tickets are selling like crazy. The official opening date has been pushed back to March 15, and now in the three weeks before that date producers have reportedly hired Roberto Aguirre-Sacasa to rewrite the book originally created by Julie Taymor and Glen Berger.
He's also writing the American Psycho musical, but more important has written comics for Marvel, including a couple of Spider-Man stories.
We don't know what changes he'll make, but given that reviews of Turn Off the Dark call it static, sketchy, ill-formed, incoherent, and tedious, there is some Herculean work to be done. One review called it "beyond repair," but that remains to be seen.
Reviews blast the show's directionless plot and the 'Geek' Chorus — a cute pun that could work as a narrative device, but here evidently does not. Jibes have also been aimed at some characters: the villainess Swiss Miss, and the goddess Arachnae, who gives Peter Parker his hero costume. How much of this can be changed? I'm only going on reviews and hearsay, so I won't presume to say. I don't know if the Geek Chorus could be cut, for instance, or if some rewriting will do the trick. The two-act structure seems to be very oddly paced, and if you read the recap of the complicated plot, it sounds as if familiar Spider-Man story elements have just been dropped in willy-nilly.
Many have also blasted the show's songs, calling them repetitive and bland (shocker! Bono and the Edge wrote boring material!)  and since Steve Lillywhite was brought in a month ago to work on the music and those bad reviews persist, it may be too late to save that aspect of the show. But a book rewrite  may at least be able to nip and tuck things so that the show flows more as a story. [Deadline]