Freida Pinto Cast In Michael Winterbottom's 'Trishna'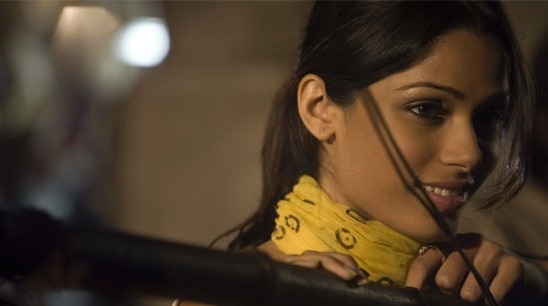 Michael Winterbottom sure does love author Thomas Hardy. He has made two adaptations of the author's work — Jude and The Claim, neither sadly among the director's best work — and now is at it again. He's doing a version of Tess of the d'Urbervilles with the action transplanted to Rajasthan and Mumbai, and has cast Freida Pinto in the lead role. The film, which could end up being quite the dispiriting examination of rigid social and sexual rules, if it faithfully follows the novel, is called Trishna.Deadline says the film begins shooting on February 28. [Edit: Deadline is just now reporting this, but The Playlist had it some time ago, and we missed their story. Props to them for scoring the info first.] Michael Winterbottom certainly has a way of keeping busy; he had The Killer Inside Me last year, and cut his BBC series The Trip into a well-received feature, as well, just as examples. He's also putting together The Promised Land with Colin Firth, Jim Sturgess and Matthew Macfayden, which is a political thriller set in British-occupied Palestine in the late '40s.
Back to Trishna: Riz Ahmed (Four Lions) will also appear as "the son of a wealthy property developer who falls for the daughter of an auto rickshaw driver."
Tess has been filmed many times, both for television and the big screen, with the last major film version being Roman Polanski's 1979 film starring Nastassja Kinski in the title role. Given the speed at which Michael Winterbottom works it isn't unreasonable that we'll see this later in the year during the September festival season; otherwise it will certainly appear in early 2012.
Spoilers follow in this description, if you've missed being exposed to one of Thomas Hardy's classic novels:
After her impoverished family learns of its noble lineage, naive Tess Durbeyfield is sent to make an appeal to a nearby wealthy family who bear the ancestral name d'Urberville. Tess is seduced by dissolute Alec d'Urberville and secretly bears a child, Sorrow, who dies in infancy. Later working as a dairymaid she meets and marries Angel Clare, an idealistic gentleman who rejects Tess after learning of her past on their wedding night. Emotionally bereft and financially impoverished, Tess is trapped by necessity into giving in once again to d'Urberville, but she murders him when Angel returns. After a few days with Angel, Tess is arrested and executed.