Taylor Lautner And Michael Bay Auctioning Off Project Together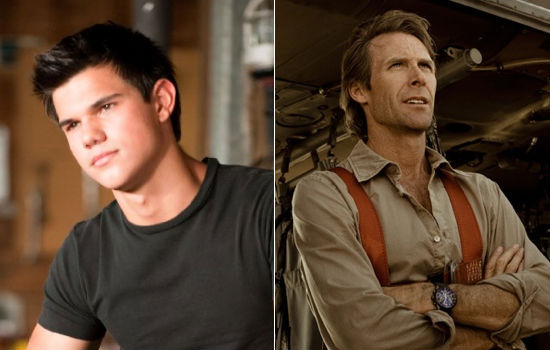 How much would you pay for a script that has Taylor Lautner and Michael Bay attached to it? That's the question Hollywood studios faced Wednesday, according to Deadline, as the pair sent out a script written by Jason Hall (Spread) to all the major studios hoping to incite a bidding war. Described as "Mr. and Mrs. Smith meets Wanted" the script has already generated considerable interest, probably because of its potential star and director. Read what little more we know about this after the jump.
According to Deadline, who exclusively broke the story, Bay and Platinum Dunes "aggressively courted" Lautner to star in films that would be ready for production in 2012 (Lautner is already booked solid for the rest of this year). The pair apparently came to some sort of agreement and "handpicked" Hall as a screenwriter. So far, Hall is only credited with writing Spread, which starred Ashton Kutcher and premiered at the Sundance Film Festival in 2009.
Having only the logline "Mr. and Mrs. Smith meets Wanted" to go on isn't much, but here are a few possible scenarios that come to mind:
A husband and wife team join a league of elite assassins.
A husband and wife team are targeted by a league of elite assassins.
A man and a woman, both elite assassins, begin to fall in love but are then targeted by their group.
I mean, really, that could mean anything. Maybe they're borrowing from the comic book version of Wanted, which would open up a whole other can of worms, but I sincerely doubt that. Plus you have to take into account Lautner's age, which almost certainly takes out any chance of marriage, as well as the kind of films that Bay directs, huge epic action. While my scenario #3 is probably the most likely out of those, budding romantic relationships aren't exactly Bay's specialty, so we'll have to wait and see.
If this film is purchased in the next few days, with Lautner's incredibly busy schedule (Abduction will be released in September, Breaking Dawn Part One is out in November, he's got to shoot Incarceron and a spy movie for New Regency and is still scheduled to star in Stretch Armstrong) plus with Bay finishing Transformers: Dark of the Moon though the summer, this could potentially be Bay's next movie sometime in 2012.
Do you think a Bay/Lautner team is something you'd look forward to?